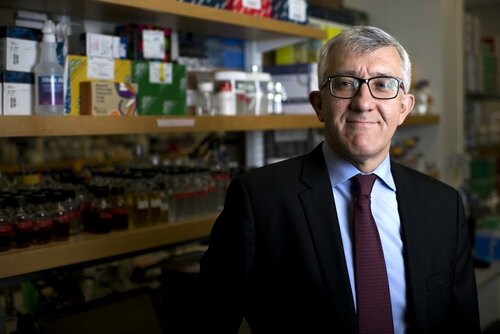 "When I looked at the overall programme, I thought that this session would be highly important," said Alpdogan Kantarci from the Forsyth Institute (Harvard University, Cambridge, USA), who will chair the session "Novel concepts: Outlook for the future" at Perio Master Clinic 2020.
Together with speakers Darko Božić, Péter Windisch, and Lior Shapira, he will explore the latest techniques that are transforming the regeneration of hard and soft tissues around teeth and implants.
Looking ahead to where we might be in 2030, Dr Kantarci highlighted innovations in the patient's experience, clinical practice, and technology.
"At the patient level, the field will be shaped by the integration of high-throughput analyses of genes and biomarkers that will truly create a personalised approach and will advance the predictability of the treatment outcomes, he said. "This will be the application of precision dental medicine to periodontal regeneration."
At the clinician level, digital technologies "will allow us to use precise treatment approaches and will reduce the operator-related shortcomings of predictable outcomes."
In terms of technology, Kantarci highlighted growth factors, scaffolds, and stem-cell applications, which will be incorporated at affordable costs and with predictability. In addition, he added, "nanomedicine technologies and controlled delivery of biologics sequentially will be a part of our toolkit, and we will be using artificial intelligence and deep-learning methods to enhance our success."
His overall message that "the good news is that all these are already in making – so they are not really sci-fi" was taken up by the speakers in the session.
Digital benefits
For Lior Shapira, whose Perio Master Clinic 2020 presentation is on bone regeneration in the digital era, the digital approach "is more accurate, shortens the surgical procedure, and has fewer adverse effects ­– this is the present, and the new bio-technologies that are being developed will make it simpler and more predictable."
Prof Shapira will also highlight the benefits of 3D printing of patients' jaws and the technologies of computer-aided design (CAD) and computer-aided manufacturing (CAM).
Combined periodontal regeneration and vertical augmentation will be addressed by Péter Windisch, who advocates the new technique of Extraction Site Development (XZD), which involves a two-layer tunnel-like flap with a modified approach to guided bone regeneration.
Prof Windisch said that this approach means that the often-missing buccal bone wall can be re-established by increasing the space below the membrane to allow an enlarged blood-clot formation. Instead of introducing non-resorbable graft particles into the extraction socket, this technique enhances the regenerative capabilities of the body.
Enhancing natural healing
He added that this step-by-step approach "can reduce patient morbidity and the invasiveness of surgical interventions, with an attempt to maintain or re-establish the lost tissues by enhancing the natural healing process with only minor augmentation necessary."
Darko Božić's presentation in Dublin will explore combined periodontal and bone regeneration, "an extremely difficult task because of the biological limitations of periodontal regeneration – it is much easier to rebuild the bone than the periodontium."
He will explain how increased knowledge about cell response to growth factors is aiding clinicians in their decision-making. However, he will warn that "much more research lies ahead if we are to achieve the ultimate goal, which is completely predictable regeneration of the periodontium to a much larger number of patients than its currently possible."
"Novel concepts: Outlook for the future", Perio Master Clinic 2020, Dublin, Friday, March 6, 14.45-16.20.
The latest two editions of EFP magazine Perio Insight include previews of this session from Darko Bozic and Lior Shapira (in issue 11) and Péter Windisch (issue 12).