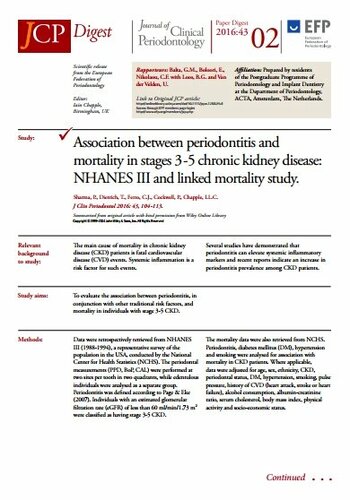 Periodontitis in patients who have chronic kidney disease (CKD) is associated with a higher risk of mortality than having the disease without periodontitis, according to a study featured in the JCP Digest, the EFP's research summary.
Researchers at the University of Birmingham in the UK evaluated the association between periodontitis, in conjunction with other traditional risk factors, and mortality in individuals with stage 3-5 CKD.
The main cause of mortality in CKD patients is fatal cardiovascular-disease events and systemic inflammation is a risk factor for such events. Previous studies had demonstrated that periodontitis can elevate systemic inflammatory markers and recent reports indicate an increase in periodontitis prevalence among CKD patients.
The new research, published in the February edition of the EFP's prestigious scientific publication the Journal of Clinical Periodontology, concluded that there was an association with a higher risk of mortality in CKD patients with periodontitis compared to those without periodontitis.
The researchers said that if a causal relationship is established between periodontitis and increased rates of mortality in CKD patients, then treatment of periodontitis should be implemented in the healthcare of such patients.
These findings were summarised as JCP Digest 02 (2016) by students at the EFP-accredited postgraduate periodontology programme at ACTA in Amsterdam.
JCP Digest 02 (2016) can be viewed on and downloaded from the EFP website in English, French, German, Italian, Portuguese, and Spanish.