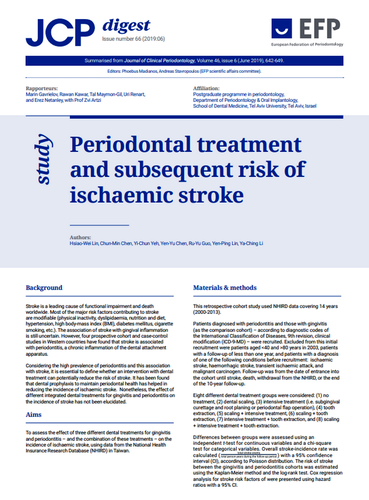 Patients with periodontitis have a higher risk of ischaemic stroke and a higher mortality from the disease compared with patients with gingivitis, according to research summarised in the latest issue of JCP Digest.
The research, summarised as JCP Digest 66, also found that there may be an increased risk of stroke after tooth extraction among patients with periodontal disease.
On the other hand, the researchers – at the Changhua Christian Hospital in Taiwan – concluded that the risk of stroke was reduced after dental and periodontal treatment.
Their research was a retrospective population-based cohort study which compared patients with periodontitis and those with gingivitis by looking at eight different forms of treatment.
In the light of their findings, they said that incorporating preventive oral health into regular supportive periodontal care may result in healthier oral conditions and a decreased risk of stroke in all patients (periodontitis and gingivitis).
The full research, published in the June issue of the Journal of Clinical Periodontology, was summarised for JCP Digest by postgraduate students in periodontology at the School of Dental Medicine, Tel Aviv University, Tel Aviv, Israel.