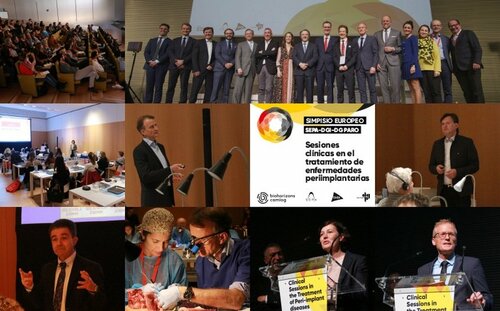 Two EFP member societies have come together to offer an international symposium dedicated to the challenge presented by peri-implantitis.
The Spanish Society of Periodontology and Osseointegration (SEPA) and the German Society of Periodontology (DG-PARO), together with the German Association of Oral Implantology (DGI), held a joint symposium in Palma de Mallorca on January 24 and 25.
The event, attended by more than 400 participants from more than 15 countries, featured world-renowned speakers and live surgery.
The symposium featured a combination of workshops and lectures and came to the overall conclusion that it is often possible to avoid surgical treatment for peri-implantitis, provided that the patient is involved in the prevention and maintenance of their periodontal health and that the hygiene of the implants is supervised before, during, and after treatment.
In his lecture, Antonio Linares (the junior member of the EFP communications committee) noted that "peri-implant diseases are very prevalent diseases in Spain, they are more aggressive than periodontitis, and non-surgical therapy is a successful option in many cases."
Mariano Sanz, co-chair of the EFP workshop committee, noted that "the prevention of peri-implantitis starts, necessarily, in first combatting mucositis," while Dennis Schaller pointed out that "non-surgical therapy can be carried out throughout the process: from diagnosis to evaluation and additional therapy."
Stefan Fickl, emphasised that "primary wound closure is a key factor for achieving success", while a worrying fact was presented by Ausra Ramanauskaite, who told the symposium that "generally, after three months, patients stop cleaning around their implants."
A round-table session explored the reconstruction of soft tissues around implants and the final session focused on prevention, covering supportive periodontal treatment for primary and secondary prevention of periodontal and peri-implant diseases, and implant surgery and prosthetic designs aimed at preventing of future peri-implant diseases.
Live surgery and workshops
One of the symposium's highlights was live surgery from Moscow, performed by Dr Ramón Gómez Meda on a patient with multiple gingival recessions, using porcine tissue as an alternative to connective tissue grafting. As well as being viewed in the auditorium in Mallorca, the surgery was streamed to more than 200 viewers simultaneously across Latin America.
The event also featured five workshops.
Former EFP president Juan Blanco (together with Cristina Carral and Olalla Argibay) led a workshop on the access flap, resective therapy, and decontamination of the implant surface.
Jan Derks and Dennis Schaller presented some novel aspects in regenerative surgery for peri-implant defects, while the workshop led by Michael Christgau focused on soft-tissue augmentation around implants.
Fouad Khoury explained the reconstruction of the defect after the loss of the implant, and Dr Gerhard Iglhaut presented Reconstructive Tissue Matrix, a new material for soft-tissue augmentation.
Symposium co-ordinators Adrián Guerrero (SEPA), Frank Schwarz (DGI), and Christof Dörfer (DG PARO) said that the event had "exceeded all expectations."
SEPA has published on YouTube a video summary of the symposium.