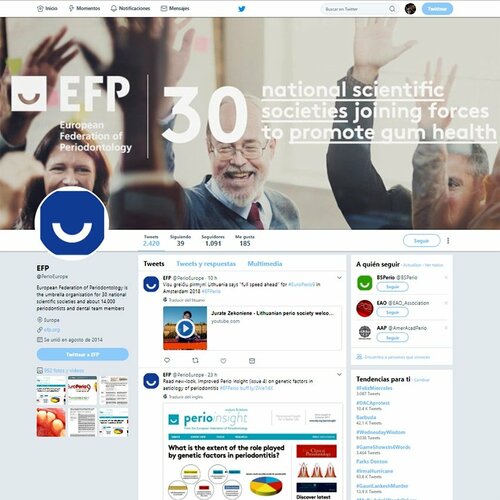 The EFP's page on the Twitter social-media platform now has well over a thousand followers and during the last year its tweets have been seen by more than 2.2 million people.
As of August 30, a total of 2,411 tweets had been published on the EFP's Twitter page (@PerioEurope), 916 of these over the last 12 months.
The page – https://twitter.com/PerioEurope – has 1,085 followers (split equally between men and women) – an increase of 278 (34%) over the previous year.
By August 30, the page had received a total of just over 2.2 million "tweet impressions" (the number of times a tweet has been seen online). So far this year, EFP tweets have received 8,070 "likes", 41% more than during the same period of 2016.
The most popular tweet of 2017 was "Do not miss the #EuroPerio9 programme: be ready for Amsterdam", published on August 24, which received 41,848 impressions and 42 "engagements", including 16 "retweets" and 13 "likes".
The second most popular tweet was one in Portuguese about an issue of JCP Digest: "Tratamento periodontal não cirúrgico associado à administração sistémica de antibióticos JCP Digest 9 #EFPerio", which received 41,192 impressions and 10 engagements.
A tweet about the new EFP Alumni project – "#EFPerio launches project for alumni of graduate programmes and invites online registration" – received 40,795 impressions and four engagements, while the tweet "2017 – a busy year for the #EFPerio with much more to come" was not far behind, with 40,859 impressions and 11 engagements.
The figures for July 2017 compared with July 2016 show how rapidly usage of the page is growing. In July 2017, there were 88,500 tweet impressions compared with 22,300 in July 2016 – an increase of nearly 300 per cent.

As well as Twitter, the EFP provides news and information about its activities via the social-media platforms of Facebook, LinkedIn, and YouTube.
The EFP is planning to revamp its social-media activities in the autumn and news about this will follow soon.