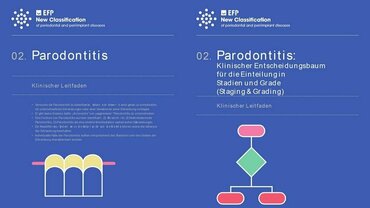 The EFP guidance notes for clinicians on the new classification of periodontal and peri-implant diseases have been translated into German and published by three of the federation's affiliated national societies of periodontology in German-speaking countries.
The Austrian (ÖGP), Swiss (SSP), and German (DG PARO) societies of periodontology collaborated in disseminating German versions of the five guideline documents, which cover: periodontal health; peri-implantitis (with a separate document on the clinical "decision tree" for staging and grading the disease); systemic and other periodontal conditions; and peri-implant health, peri-implant mucositis, and peri-implantitis.
The five documents – Parodontale Gesundheit und Gingivitis, Parodontitis, Parodontitis: Klinischer Entscheidungsbaum, Systemische und andere parodontale Erkrankungen und Zustände, Peri-implantäre Gesundheit, Peri-implantäre Mukositis, Peri-implantitis – can be downloaded from the website of the German society, DGPARO (dgparo.de) and are also being made available on the websites of the Austrian and Swiss societies of periodontology.
The translations were made by Søren Jepsen and Henrik Dommisch and great care was taken on the layout so that the translated documents respected the format of the original EFP models.
"We have first shared these versions with all German dentists through the German Dental Journal during this summer," said Søren Jepsen, former EFP president, co-chair of the World Workshop on the New Classification, and author of one of the original clinical-guidance notes.
"Now it has been a great pleasure to provide these documents also to our colleagues in Austria and Switzerland via the ÖGP and SSP. In the past, there has always been a great co-operation among these three German-speaking societies when it came to translating and disseminating material from the EFP workshops."
"We are really enthusiastic about this," added Henrik Dommisch, president-elect of DG PARO. "Since their publication online, these documents can be used by both our students (undergraduates and postgraduates) and by our colleagues in private practice."
The decision to translate the documents was made at the EFP's general assembly in Bern at the end of March, after Mariano Sanz – chair of the EFP workshop committee and co-ordinator of the New Classification project – presented the original English-language material.