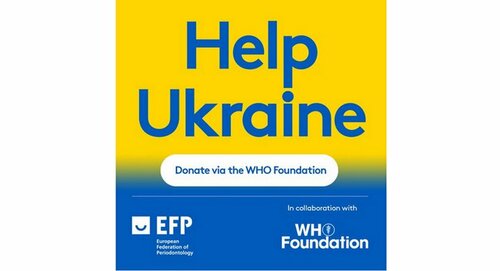 The EFP-supported campaign to provide life-saving healthcare and humanitarian assistance to Ukraine has so far raised almost €8.3 million, which has enabled emergency treatment, prevented the spread of disease, and delivered medical supplies and equipment.
Campaign organiser the WHO Foundation has just published a report that highlights both the success of the donation campaign and the scale of the humanitarian crisis provoked by the war in Ukraine, which in six months has injured or killed more than 12,800 civilians and displaced 12.8 million people.
According to the United Nations, 15.7 million people in Ukraine — 36 percent of the population — need urgent humanitarian assistance.
Funding from the WHO Foundation has:
Helped to strengthen Ukraine's emergency-care system, treating nearly 12,000 patients with trauma and emergency-surgery kits.
Delivered 900 tons of medical supplies and equipment, establishing direct supply lines to nearly every city in Ukraine in collaboration with the country's ministry of health.
Prevented the spread of infectious diseases such as polio, measles, and Covid-19 by administering 10,000 routine vaccines.
Co-ordinated humanitarian interventions in Ukraine with 152 local and international partners, delivering medicines, supplying emergency teams, and conducting vital training for medical personnel.
WHO Foundation chief executive officer Anil Soni thanked donors for their generosity, mobilisation, and solidarity, but added: "Moving forward, we must continue to respond to both the existing crisis as well as the emerging needs caused by this war, including reinforcing — and in some cases rebuilding — medical facilities and strengthening Ukraine's mental health care system."

The WHO Foundation was launched in 2021 to support initiatives of the World Health Organization (WHO) by marshalling the resources of foundations, corporations, and individual donors to facilities innovative partnerships between the public and private sectors.
The report highlights the "enormous pressure" that the war has placed on Ukraine's health system, noting that there have been 445 verified attacks on health-care facilities, health-care workers, medical transports, supplies, and warehouses: "This translates into more than three attacks every day which destroy buildings, injure and kill people, and interfere in the delivery of life-saving medicines and interventions."
World Health Organization director general Tedros Adhanom Ghebreyesus said: "The ongoing war in Ukraine has caused large-scale disruptions to health services. We thank the WHO Foundation for supporting WHO's delivery of life-saving health care to people in need across Ukraine."
EFP support
In March, the EFP launched its "Help Ukraine" donation campaign, with all funds raised going to the WHO Foundation's work in Ukraine. So far, via the EFP, a total of €11,787 has been contributed to the WHO Foundation campaign.
"The EFP reacted swiftly to the emerging Ukrainian crisis six months ago and organised a humanitarian campaign together with the WHO Foundation, which has an established system and network," said EFP president Andreas Stavropoulos.
"It is really rewarding to see from this report that the WHO Foundation donations reach the people in need. However, it is also clear from this report, that the needs are still there and are huge. This humanitarian crisis is still ongoing, even though nowadays the Ukraine-Russia armed conflict appears as item number 10 in the sequence of the news.
"So, I would once more strongly urge our colleagues to donate via the EFP-WHO Foundation campaign."