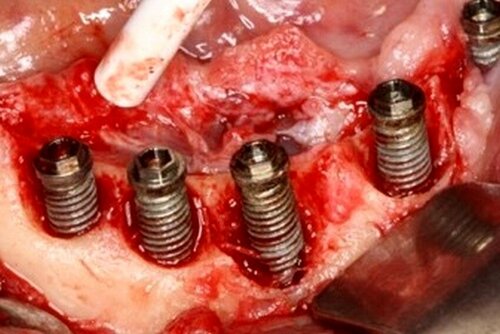 One of the five workshops that will take place as a curtain-raiser to Perio Master Clinic 2020 in Dublin has already sold out and the others are filling up quickly.
The Straumann-sponsored workshop Mucogingival aesthetic surgery, led by the Italian team of Giovanni Zucchelli and Martina Stefanini, which takes place on the morning of Thursday, March 5, has sold out.
The other workshop to take place during the morning – The next generation of regenerative biomaterials for optimal outcomes – is led by Roberto Abundo (Italy), who will explain the concept of the scaffold in bone regeneration, naturally cross-linked biomaterials that are totally resorbable, and surgical techniques for optimal outcomes in bone regeneration in different clinical conditions. This workshop, sponsored by Datum Dental, will involve a two-hour hands-on session using pig jaws and models.
The three afternoon workshops are:
Novel regenerative concepts using dermal matrices – from integration to regeneration – led by Edward P. Allen (USA), who will compare new soft-tissue grafting techniques with the "gold standard" of the connective-tissue graft and present a step-by-step approach to the tunnel technique. This workshop is sponsored by Biohorizons Camlog.
The Bernese concept for the treatment of soft-tissue defects around teeth and implants, in which Anton Sculean (EFP president 2018-19 and scientific chair of Perio Master Clinic 2020) will explain the concept developed at the University of Bern (Switzerland) for treating soft-tissue defects, providing insight into the use of connective-tissue grafts and collagen-based soft-tissue grafts using MCAT and LMT procedures. This workshop is sponsored by Regedent.
Management of peri-implantitis: a pragmatic approach, in which Andreas Stavropoulos (elected member of the EFP executive committee and co-ordinator of Gum Health Day 2020) will lecture on the non-surgical and surgical management of peri-implantitis, using clinical videos and patient cases, and then provide hands-on training on resective and regenerative treatment techniques, using special peri-implantitis models and power-driven and air-polishing devices.
Mondial Congress & Events, the EFP's professional conference organiser, advises participants who are interested in taking part in one of the workshops to book as soon as possible. Numbers are limited (maximum numbers range from 20 to 40 people).
The workshops take place at the Royal Dublin Society, the location of Perio Master Clinic 2020 on the following two days, March 6 and 7.
Full details of the workshops are available on the EFP website, through which reservations can be made via the various sponsors. The cost of registration varies but is typically less than 100€.
The EFP announced in December that Perio Master Clinic 2020 had been fully booked and a waiting list had been opened.