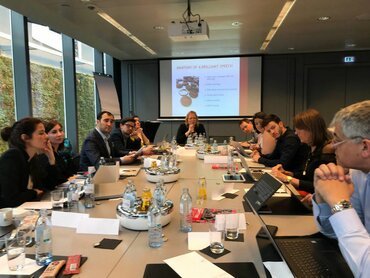 One of the innovations at EuroPerio9 in June will be the "Perio Talks" session on the opening day, where eight speakers will talk about what has inspired their professional careers.
To help them prepare for the demands of the short "TED Talks-style" presentations – 10-12 minutes, speaking without notes and without slides – the EFP hosted a special training session in Vienna, a few days before the federation's general assembly.
Barbara Rogoski, a speaker coach who has worked with executives and managers of many leading companies, gave a hands-on training to the eight "Perio Talks" speakers in which she explained the "anatomy of a brilliant speech."
On the morning of March 14, she emphasised the importance of opening and closing "wow!" statements and outlined her nine top tips. In reverse order these were:
9: You are the expert on the product and service;

8: Be clear on your "take away" message;

7: Never say "sorry";

6: All is part of the script (voice, body, language and gestures matter);

5: Speak to everyone in the room;

4: Always have a call to action;

3: It's always about them, not about you;

2: Receive the compliments;

1: Sprinkle lots of "yous".
And then in the afternoon, Rogoski worked with each individual speaker one by one on their speeches.
"The training was very thorough, and we have learnt a lot," said Filippo Graziani, the co-ordinator of EFP Alumni and moderator of the Perio Talks session together with Moshe Goldstein and France Lambert (chair and recent junior officer of the EFP postgraduate education committee), who also attended the training.
"While I have always considered myself to be someone who does not need lecturing in giving scientific speeches, I learnt a lot."
Perio Talks is the first big event created especially for EFP Alumni, the recently created group which brings together graduates and teachers of the EFP's 16 accredited postgraduate programmes in periodontology.
Its format is radically different from anything seen at a previous EuroPerio congress and the event will be one of the main attractions of the opening day of EuroPerio9.
The speakers will all talk about what has inspired their professional careers – such as training programmes, research projects, specific techniques, or patient cases.
The eight speakers were selected from almost 30 applicants, with the selection based on four criteria: the originality of the topic; speaking skills (eloquence, linguistic capability); presentation quality; and the "human touch" of passion and enthusiasm.
Also present at the training session were Michèle Reners, Søren Jepsen, and Monique Danser from the EuroPerio9 organising committee.