Therapy
An app to help dentists and patients better manage periodontal care
12 July 2023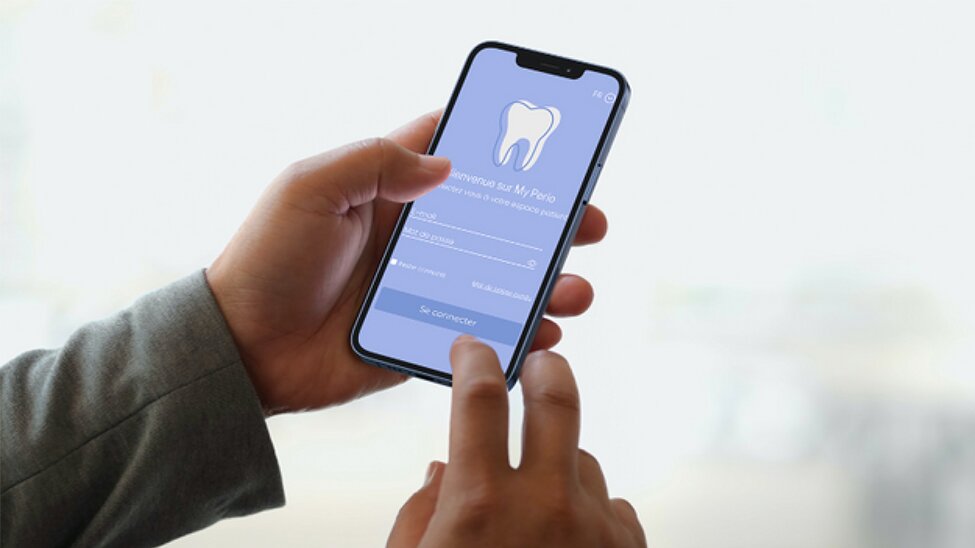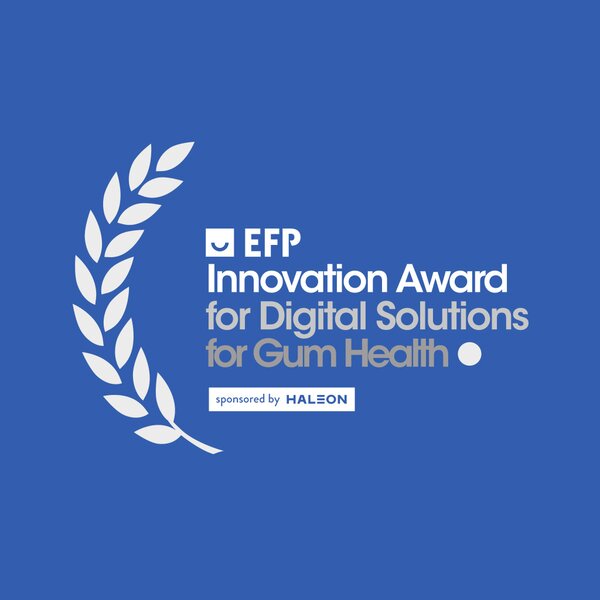 In a series of articles, Perio Insight focuses on the three winners of the EFP's Innovation Award for Digital Solutions for Gum Health 2023. The prize, supported by Haleon, is awarded annually to initiatives providing digital solutions that contribute to improve gum health worldwide. This year's first prize was awarded to Claire Bigot from the Paris Cité University in France for My PerioCare, a web and mobile application that addresses the unmet needs of both patients and dentists to better manage periodontal care. Claire Bigot explains the application and the context in which it was developed.


Periodontal diseases are chronic diseases that affect more and more people throughout the world. According to the World Health Organization (WHO), over the last 30 years, cases of periodontal diseases have increased globally by 24 percent, and by 35 percent in the poorest countries. Among the periodontal diseases, periodontitis affects up to 50 percent of the worldwide population, and has recently been associated with a broad spectrum of systemic diseases.
This area – the periodontitis-systemic association correlated with the discovery of the various systemic diseases that are related to periodontal ones (comorbidities) – has become known as the "third area" of periodontal medicine. The first area is etiopathogenesis (discovering the mechanisms of periodontal diseases), while the second is that of the risk factors for periodontitis (such as diabetes).
Until now, the care of periodontal diseases has been focused mainly on curative treatment. However, many different factors are involved in these diseases, which means that a more personalised approach with greater education of the patient is required, not least because patients often do not even know that periodontal diseases exist.
These days, much more attention is paid to prevention, and so-called "4P medicine" (predictive, preventive, personalised, and participatory) is increasingly used. However, there is a lack of tools to help dentists work in this way and to resolve their patients' health problems in the most effective manner.Electronic health (eHealth) offers effective solutions to provide large-scale personalised healthcare interventions by making use of:
increased access to patients' health data.
powerful data analytics.
educational information.
With the expansion of internet-access on mobile devices, the number of medical applications has increased dramatically – especially since the Covid-19 pandemic – and eHealth is increasingly becoming mHealth (mobile health).
Unmet needs
When we looked at this overall picture, we noticed an unmet link between the third area of periodontal medicine, 4P medicine, and the ever-expanding mHealth. In this context, we analysed scientific publications to better understand health-consumption trends and the expectations of both patients and healthcare professionals. In addition, we used a quiz that had been carried out in 2020, after the outbreak of Covid-19, to help us identify more specifically the unmet needs in periodontology of both patients and healthcare professionals.
The results showed that both patients and healthcare professionals use more and more digital tools in their daily routine and in their practice respectively. We noticed an increase of mHealth solutions to help chronic-disease management, particularly for diabetes care. Regarding periodontology, some solutions exist but do not seem to fulfil either dentists' or patients' needs:
Dentists: not enough digital devices to help them in their periodontal practice, particularly with the long-term monitoring aspect, specific to chronic diseases.
Patients: insufficient professional information on periodontal diseases and their symptoms and treatment.
Based on these results, we suggest a digital solution – which we have named My PerioCare – placed at the centre of this overall context and which could help both dentists and patients to optimise periodontal care (Figure 1).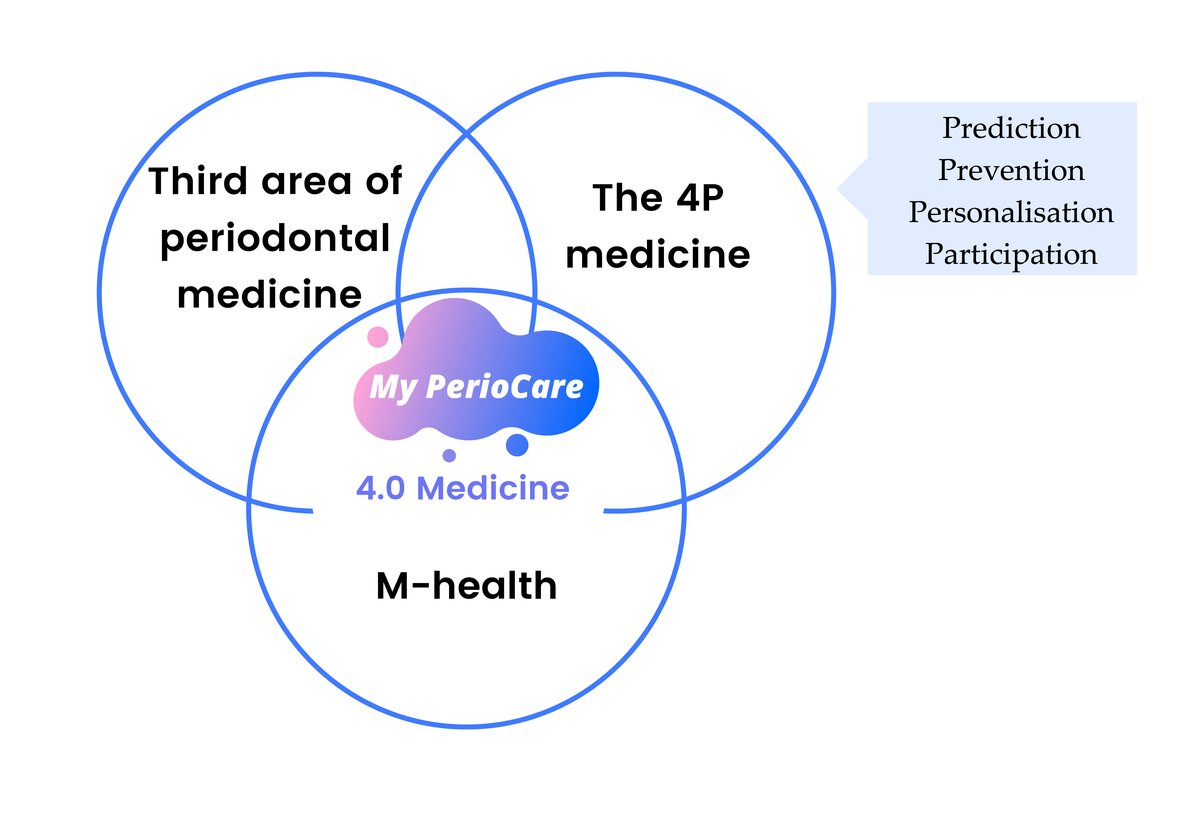 My PerioCare is a digital solution with two sides: a web application for the dentist and a mobile application for the patient, with specific services depending on their respective needs (Figure 2).
With the help of engineers, and with my colleague Elise Sorel (a periodontist who has worked on periodontal popularisation since Covid), we have developed the dentist account as well as the one for patients (Figures 3 and 4). Services offered to the dentist include diagnosis and therapeutic education first, and then periodontal monitoring assistance depending on their requirements. Throughout the whole treatment process, from creating a patient's periodontal file to patient follow-up, the dentist is efficiently guided through the application.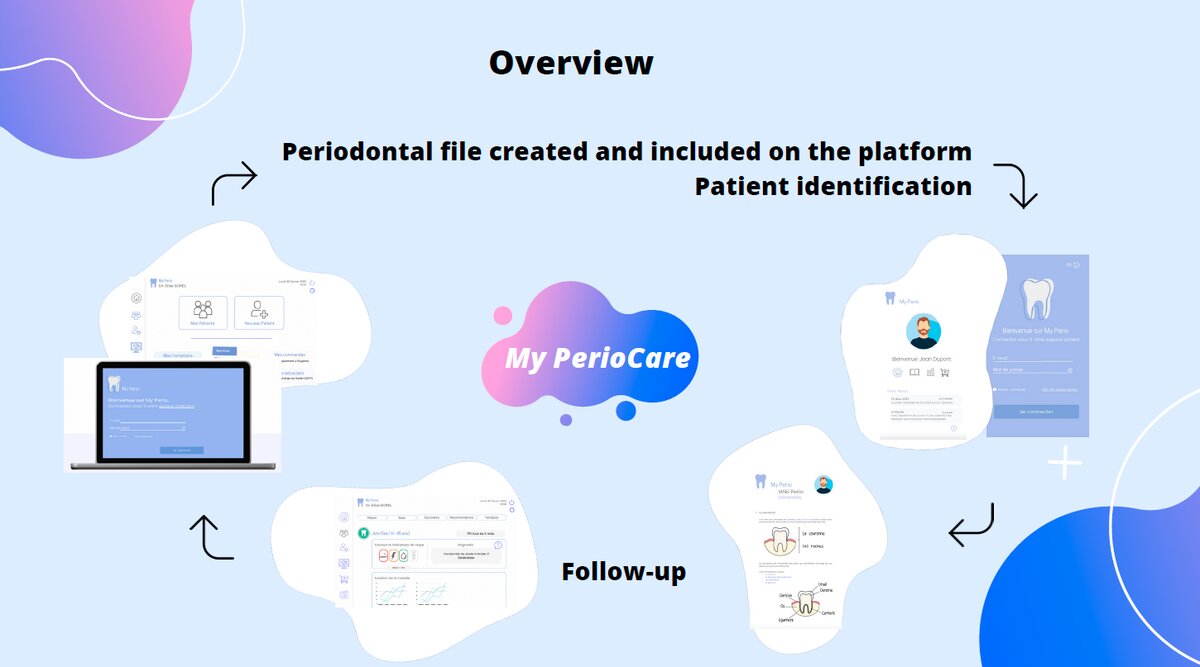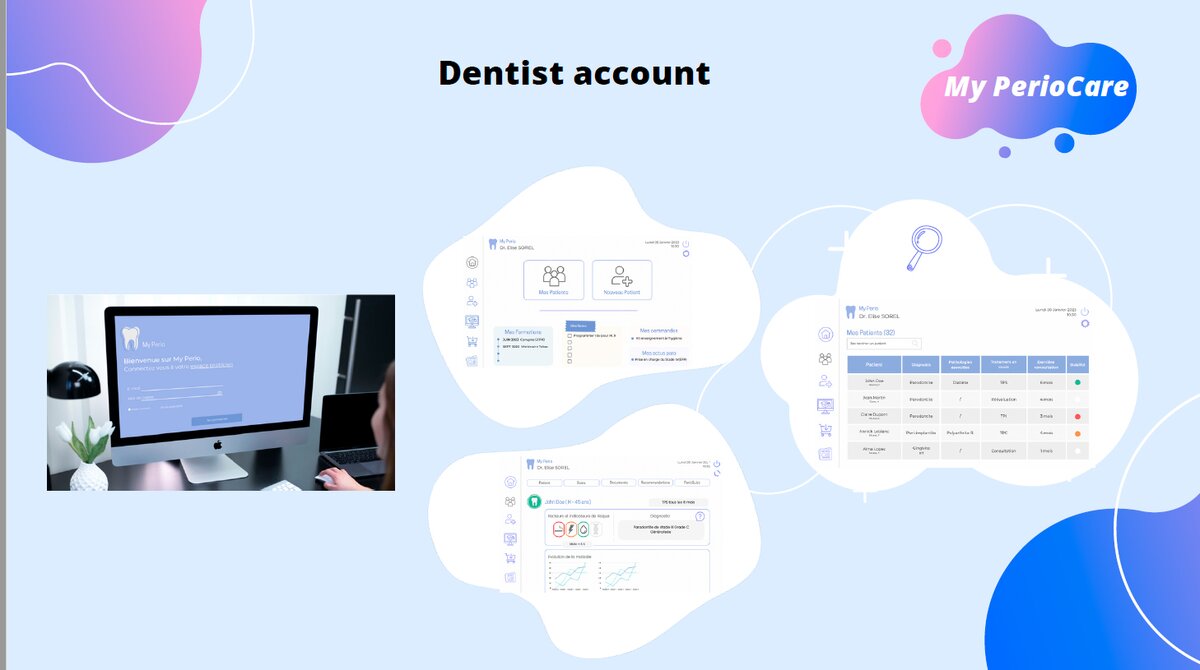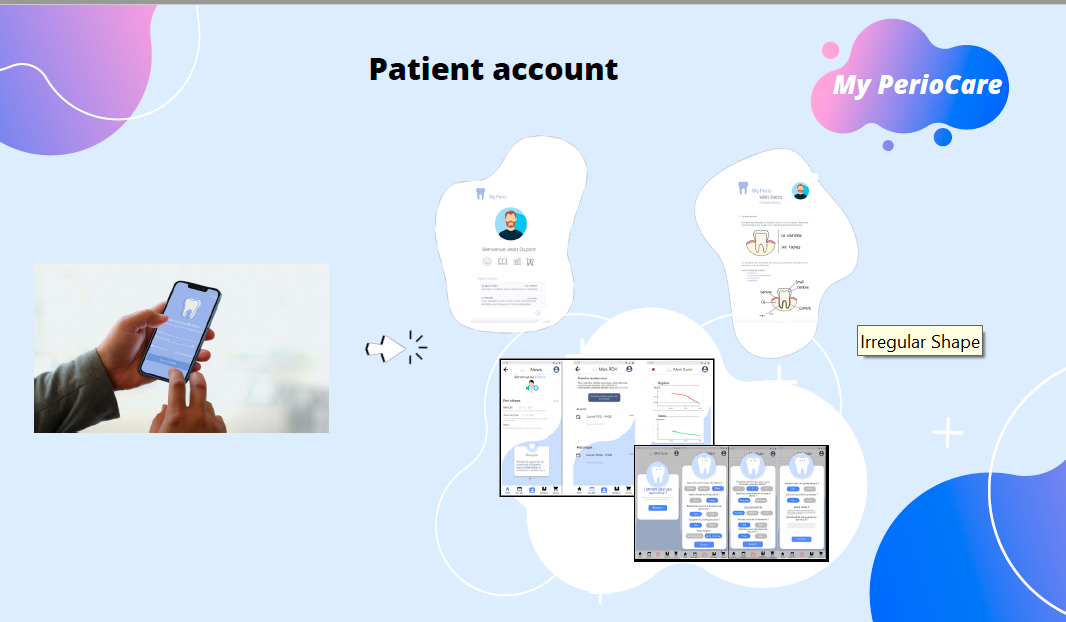 Once the periodontal file has been created by the dentist, the patient receives identifications to connect to their account. The patient will find personalised services such as periodontal sensibilisation, therapeutic education, and treatment follow-up, along with access to some of their periodontal data.
This mobile application will incorporate gamification and reward elements to enhance user engagement and motivation. Gamification consists of integrating game components into non-game settings to entice users with appealing features and infuse some fun into what might otherwise be a monotonous process of chronic-disease management.
The overall objective is to involve patients in an enlightened way in their own periodontal treatment and to avoid – as far as possible – any disease recurrence. My PerioCare can be the periodontal partner of both dentists and patients to optimise periodontal care with a personalised approach, focused on prevention.
All user-generated data is pseudo-anonymised, in accordance with the European Union's General Data Protection Regulation (GDPR) and its advisory Article 29 Working Party (Art. 29 WP). To further expand the potential benefits of the My PerioCare platform, data analytics could help research to better predict patients' periodontal disease evolution and, more globally, to optimise epidemiology studies.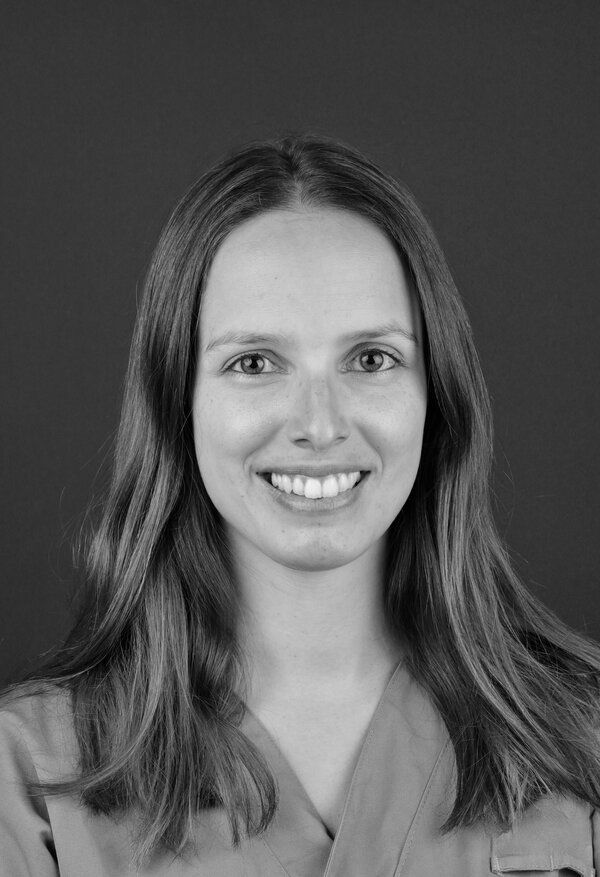 Biography
Claire Bigot received her DDS from the University Paris Cité and an MSc in Biomedical Sciences from Sorbonne University (France). She has worked on stem cells and regenerative medicine projects, especially at the Pasteur Institute. She is currently working on her postgraduate training in periodontology at the University Paris Cité.
After the Covid crisis, she decided to focus on digital innovations in periodontology. She was then accepted on an entrepreneurship degree to develop the My PerioCare solution with engineers from the ECE school in Paris, and with her colleague Dr Elise Sorel, famous in France for her works on popularising awareness of periodontal diseases.