Prevention & Public health, Therapy
Digital innovation promises to enchance supportive periodontal care
20 October 2023
In the final of three articles on the winners of the EFP's Innovation Award for Digital Solutions for Gum Health 2023, Perio Insight focuses on my.periodontal-health.com, a proposed platform to enhance supportive periodontal care by improving communcation between dental professionals and their pateints. Second-prize winner Christoph Ramseier, from the University of Bern in Switzerland, explains his innovation.
The digital age has brought the innovation "my.periodontal-health.com". Tailored specifically for supportive periodontal care (SPC), this platform aims to break down the communication barriers between clinicians and patients, facilitating an informed understanding of the clinical parameters and stability thresholds that are essential for maintaining periodontal health.
The platform will offer multiple benefits to dental professionals. Enhanced communication capabilities will ensure that critical clinical information is communicated efficiently, which will lead to improved patient compliance and understanding.
Furthermore, with the unique ability to compare individual patient data with a broader population sample, clinicians can gain invaluable insight into their patients' gum-health performance. Such comparative analysis will help to create and improve individualised treatment strategies.
On the other side of the equation, the platform will allow patients to effortlessly access their oen clinical data in an intuitive format, giving them a deep sense of ownership and awareness of their periodontal health. With privacy at the forefront, the platform ensures anonymity and secure storage of all clinical data. At the same time, anonymised data will be pooled with other patients registered on the platform. This enables patients to compare their own data (performance) with the average for the pooled sample (Figure 1). By empowering patients with knowledge and comparative data, the platform aims to increase their adherence to SPC protocols, which will lead to favourable long-term health outcomes.
---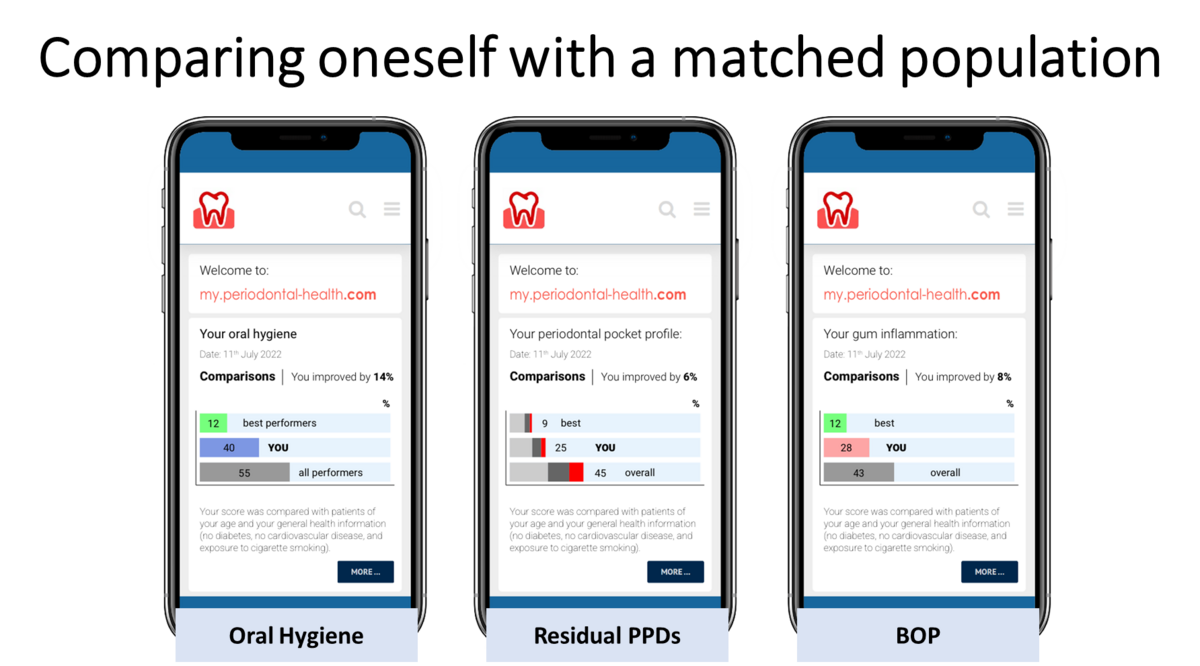 To ensure robust data protection, the site is hosted in Switzerland, which is globally recognised for its stringent digital-security standards. The collaborative efforts of Ukrainian IT professionals, combined with the power of Laravel (an open-source web application framework), have been instrumental in creating a platform that promises both user-centricity and unwavering security.
The developers' profound commitment to the dental community is evident in their efforts to protect the integrity and uniqueness of the platform. The inventor holds the exclusive copyright to all online tools associated with both my-periodontal-health.com (providing content for all dental patients) and perio-tools.com (online tools for clinicians in university education and in professional practice).
The credibility of the platform is underpinned by research that was published in the Journal of Clinical Periodontology in 2019, which highlights the critical role of SPC visits and their direct correlation to sustained periodontal stability.1
The my.periodontal-health.com platform supports the implementation of personalised periodontal care. As clinicians, embracing such advances will take our practice to new levels and ensure that our patients receive optimal standard of care.
The EFP Innovation Award for Digital Solutions for Gum Health, supported by Haleon, is awarded annually to initiatives providing digital solutions that contribute to improve gum health worldwide.
---
1 Christoph A. Ramseier, Martina Nydegger, Clemens Walter, Gabriel Fischer, Anton Sculean, Niklaus P. Lang, Giovanni E. Salvi. 'Time between recall visits and residual probing depths predict long-term stability in patients enrolled in supportive periodontal therapy'. Journal of Clinical Periodontology, 46(2), February 2019, 218-230. This paper was awarded the Jaccard-EFP Research Prize in Periodontology in 2018.
Biography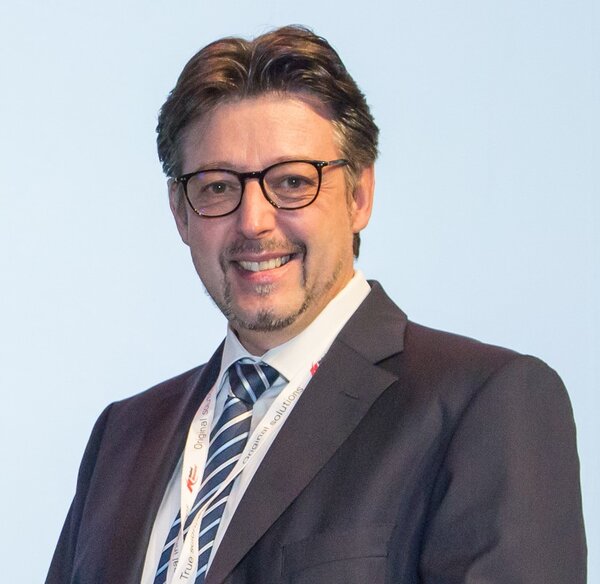 PD Dr. med. dent. Christoph A. Ramseier is a Swiss periodontist who received his education and training at the University of Bern. He earned his dental degree in 1995 and his doctorate in dental medicine in 2000. From 1999-2000, he underwent specialised training in periodontology and implantology at the University of Bern, where he became a board-certified specialist in periodontology by the Swiss Society of Periodontology (SSO/SSP) and the European Federation of Periodontology (EFP) in 2004. From 2004-2008, Dr. Ramseier was a research fellow at the University of Michigan, and in 2016 he became a private docent at the University of Bern, where his research focuses on periodontal risk management and supportive periodontal care.