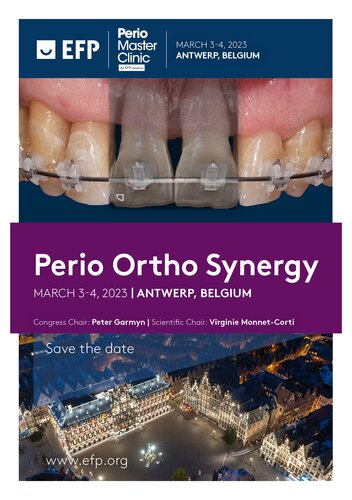 One of the innovations in the programme of Perio Master Clinic 2023, which takes place in Antwerp, Belgium on March 3 and 4 next year, is the inclusion of clinical-case presentations in each of the eight sessions on the "perio-ortho synergy".
The eight clinical cases were selected following a competition that attracted a lot of interest with more than 30 applications.
The call for applications was designed to give the rising generation of periodontists and orthodontists a chance to present alongside established names at a major conference. Candidates were asked to provide a short video in which they explained their case.
"What is difficult in these congresses is to give chance to the new generation," said Virginie Monnet-Corti, scientific chair of Perio Master Clinic 2023. "I remember when I was a young speaker it was difficult for us to break the ceiling because at congresses you need to have the best speakers and we very often always see the same speakers. While Perio Master Clinic is firstly for the wellbeing of the patients, then for the attendees, but it is also for the new generation."
Having a short clinical-case presentation in each session is a way to "open the door to the new generation," she said.
Perio Master Clinic 2023 chair Peter Garmyn explained that the decision to ask applicants to send videos was to evaluate their ability to give presentations in English: "We were looking for new people that we really didn't know, and if you made a call for written abstracts, you wouldn't be able to evaluate this."
He added that the case presentations at Antwerp will also feature video so that presenters can show some of the "tricks of the surgery".
The case presentations at Antwerp will be given by:
Andrea Roccuzzo (Switzerland), in the session on orthodontic treatment in stage IV periodontitis.
Antonio Liñares (Spain), in the session on periodontal regeneration and orthodontics.
Dick Barendregt (Netherlands), on autotransplantation, in the session on dealing with missing teeth and facial growth.
Ignacio Pedrinaci (USA), in the session on the ortho-perio synergy to enhance smile aesthetics.
Maria Cadenas (Belgium), on orthodontic digital planning, in the session on digital tools to prevent periodontal complications in orthodontic treatment.
Brenda Mertens (France) in the session on mucogingival surgery in orthodontically treated patients
Pal Nagy (Hungary) in the session on accelerated orthodontics.
Martin Biosse Duplan (France), in the session on management of complex perio/ortho/implant cases.
The deadline for "early bird" registration for Perio Master Clinic 2023, with discounts of 20 percent on the full price, is Wednesday 2 November.