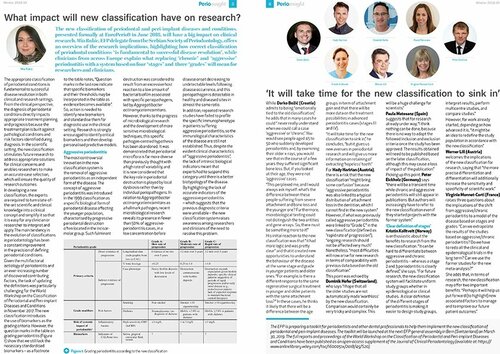 The Winter 2018-2019 edition of Perio Insight features an article about the impact on research implied by the new classification of periodontal and peri-implant diseases and conditions.
Mia Rakic, EFP delegate from the Serbian Society of Periodontology, highlights how correct classification of periodontal conditions "is fundamental to successful disease resolution."
She says that the new classification will stimulate future research to address appropriate solutions for clinical concerns and that it enables researchers "to make an accurate case selection, which will ensure the quality of research outcomes."
However, she notes that although the new system for grading periodontal disease introduces biomarkers, these have still to be standardised, so "research is strongly encouraged to identify critical biomarkers and then develop personalised predictive models."
Addressing the replacement of the categories of "chronic" and "aggressive" periodontitis with a system based on four "stages" and three "grades" will mean for researchers and clinicians, Dr Rakic comments: "By highlighting the lack of accurate indicators of the aggressive periodontitis – which suggests that the previous diagnostic criteria were unreliable – the new classification system raises awareness among researchers and clinicians of the need to resolve this problem."
Several other clinicians from various European countries also comment on the research implications of the new classification.
Among their observations:
"It can be hard to differentiate between aggressive and chronic periodontitis – whereas a stage 2 and 3 periodontitis is clearly defined," (Kristin Kolltveit, Norway);
"It will take time for the new classification to sink in, but it gives us new avenues in periodontal research and will give us more information on retaining of extracting 'hopeless' teeth," (Darko Božić, Croatia);
"The more precise differentiation will additionally increase the sensitivity and specificity of scientific work." (Werner Lill, Austria).
The Winter 2018-2019 issue of Perio Insight also includes an article by University of Bristol researchers Tanya Cerajewska and Nicola West on the increasing evidence about associations between periodontitis and Alzheimer's disease.
Finally, the issue features two pages of summaries of research published in recent editions of the EFP's Journal of Clinical Periodontology.