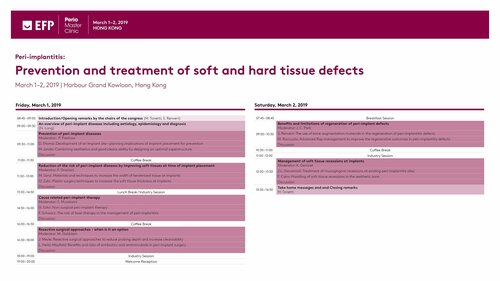 The EFP is pleased to announce that all places have been sold for Perio Master Clinic 2019, which takes place in Hong Kong on March 1 and 2.
One of the main attractions of the EFP's Perio Master Clinic events is that numbers are limited to a maximum of 550 in order to ensure the optimal learning environment.
Devoted to the prevention and treatment of soft- and hard-tissue defects in relation to peri-implantitis, Perio Master Clinic 2019 features an impressive line-up of leading international experts among the speakers and session chairs.
Perio Master Clinic 2019 is the third event of this kind, following those in Paris (2014) and Malta (2017) and is the first EFP-organised event to be held outside Europe – which reflects the increasingly international outlook of the federation.
Registrations have been made from people in 41 countries, with the biggest numbers coming from China (37% of bookings), Hong Kong (12%), and Japan (7%). Group discounts have proved popular, with several study groups from various countries organising participation for their members to ensure that they are up to date on this important topic.
"We are humbled by the trust so many colleagues have given the EFP to deliver an outstanding event in Asia," said congress chair Maurizio Tonetti. "We will ensure that the event meets everybody's high expectations and that we will have a wonderful event conducive to learning progressive approaches and facilitating new friendship and professional relations."
The full programme for Perio Master Clinic 2019, which takes place at the Harbour Grand Kowloon hotel, can be consulted here.