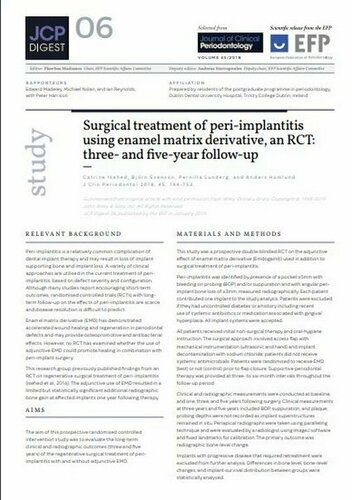 The adjunctive use of enamel matrix derivative (EMD) in combination with peri-implant surgery may improve the survival time of implants in patients with peri-implantitis, according to a trial conducted by Swedish researchers.
While EMD has demonstrated accelerated wound healing and regeneration in periodontal defects, there has been little research on how it might promote healing in cases of peri-implant surgery.
The researchers, who conducted a double-blinded randomised controlled trial (RCT), had reported in 2016 that the adjunctive use of EMD resulted in a limited but statistically significant additional radiographic bone gain at affected implants one year after surgery.
However, their report on the three- and five-year outcomes of the treatment – summarised as JCP Digest 06 (2018: 45) – said that the beneficial effects of EMD on radiographic bone level shown after one year were not evident at three and five years of follow-up.
Noting that successful treatment of peri-implantitis is difficult to achieve (44% of the implants in the study were lost or suffered recurrent infection in the five years following surgery), the trial nonetheless found that that EMD use was associated positively with implant survival time.
The researchers called for additional studies to evaluate the merits of using EMD in peri-implantitis treatment.
The study was published in the June 2018 edition of the EFP's Journal of Clinical Periodontology. It was summarised for JCP Digest by students at the postgraduate programme in periodontology at the Trinity College Dublin in Ireland.