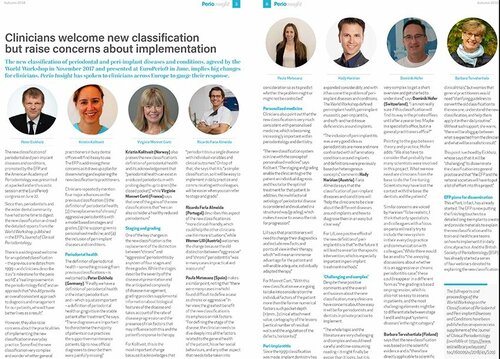 "A milestone for the perio world," a "real improvement in the periodontology field," and an approach that "should provide an overall consistent approach to diagnosis and management for our patients, who will have better lives as a result."
These are just some of the comments about the new classification of periodontal and peri-implant diseases and conditions made by periodontal clinicians at EFP-affiliated national societies of periodontology.
The latest issue of the EFP magazine Perio Insight features an article on the reaction of clinicians to the new classification periodontal and peri-implant diseases and conditions, promoted by the EFP and the American Academy of Periodontology, which was presented at the EuroPerio9 congress on June 22.
There is a widespread welcome for an updated classification – the previous one dates from 1999 – and clinicians repeatedly mention four major advances on the previous classification:
The definition of periodontal health;
The replacement of chronic/aggressive periodontitis with a model based on stages and grades;
The support given to personalised medicine;
The inclusion of peri-implant diseases and conditions.
But they also raised concerns about the practicalities of implementing the new classification in everyday practice. Some find the new classification complex and wonder whether general practitioners in busy dental offices will find it easy to use.
The EFP is addressing these concerns as it draws up a plan for disseminating and explaining the new classification to practitioners.
"The long-awaited consensus on the new classification of periodontal and peri-implant diseases and conditions is now a reality!" said Joanna Kamma, editor of Perio Insight. "Of great importance is the view of the clinicians who are going to use this as a common language to facilitate diagnosis and personalised treatment. Their comments show the need to break it up into clear and accessible elements and get a training to implement it easily in everyday practice."
The Autumn 2018 issue of Perio Insight also includes an in-depth article about the use of lasers in periodontal and peri-implant therapy, written by Ayala Stabholz from the Hebrew University-Hadassah Faculty of Dental Medicine in Jerusalem (Israel).
In addition, the issue features two pages of summaries of research published in recent editions of the EFP's Journal of Clinical Periodontology.