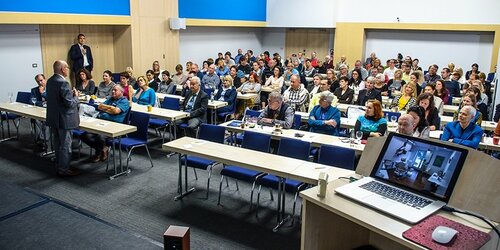 The Czech Society of Periodontology recently staged a two-day meeting that explored key topics in periodontal clinical practice.
The "Periodontology Days", held in the city of Ostrava, began with a presentation from German periodontist Wolfgang Westermann on "Failures in periodontology: causes, and how to solve them."
Dr Westermann discussed different types of defects and their causes and solutions, including the use of periodontal surgery. He presented a step-by-step approach to evaluating the positive and negative aspects of a case, and discussed the role of antibiotics, scaling, root planing, re-evaluation, recall, and surgical therapy.
In relation to the question of "to maintain the tooth or not?" he said that the key factor was whether there was a good long-term prognosis for the tooth.
This lecture was followed by one from Jan Steblov (Prague) on "compromised implants, compromised teeth," which showed how some implants that had seemed lost could be saved with the right combination of periodontal surgery, hygiene, and maintenance care.
Dr. Jaroslav Černušák (Kralupy nad Vltavou) explored ethics and etiquette in dentistry and medicine, while Pavel Poleník (Pilsen) addressed the treatment of chronic hyperplastic gingivitis with laser therapy.
The first day was rounded off with a lecture from Dr Jiří Ramba (Prague) on "Acute health changes (accidents, injuries) in the life of Czech kings," including the treatment of complex jaw facture and cervical vertebral injuries to Charles IV (1316-1378).
The second day began with a lecture from Maria Matuševská (Prešov, Slovakia) on co-operation between periodontists and other dental specialities, including successful orthodontic-periodontal therapy for seemingly lost teeth.
Petr Barták (Praha) discussed prosthetic procedures in relation to periodontology, including when to usedflap or tunnelling techniques to achieve the best functional and aesthetic outcomes.
Peter Abelovský (Zvolen, Slovakia) discussed sinus-lift procedures, with a focus on less-invasive techniques, and the final lecture was given by Hana Lejdarová (Brno) on blood diseases in relation to preparing patients for dental surgery.
The Periodontology Days were held on October 13 and 14 at the Park Hotel Radisson Blue in Ostrava. The Czech Society of Periodontology will hold a similar event on May 18 and 19, 2018 at Spindlerův Mlýn, in the Krkonoše mountains.