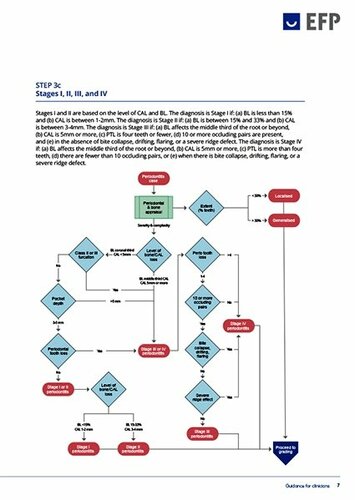 One of the key elements of the EFP toolkit on the new classification of periodontal and peri-implant diseases and conditions is the "decision tree" for assessing periodontitis.
Created by Maurizio Tonetti and Mariano Sanz, the eight-page pdf guidance note is designed to guide clinicians through the sequential decisions needed to be able to assign cases to the correct periodontal diagnosis.
There are four steps involved:
The first step enables the clinician to discriminate between periodontal health, gingivitis and suspect periodontitis when assessing a new patient.
The second step is a confirmation step to provide differential diagnosis between periodontitis and other conditions characterised by attachment loss.
The third step assesses the severity and complexity of management of the periodontitis case (staging, involving four stage I-IV).
The fourth step assesses the risk profile of the case (grading, involving three grades, A-C).
Professors Tonetti and Sanz have published an article in the Journal of Clinical Periodontology explaining the process behind the creation of the decision tree.
"Implementation of the new classification of periodontal diseases: Decision-making algorithms for clinical practice and education" describes how they developed empiric decision‐making algorithms based on the new classification to effectively discriminate between the key periodontal diagnoses of periodontal health.
Optimising diagnosis
Discussing the scientific rationale for the study, they point out that implementing the new classification "requires modification of the current way of thinking to optimize diagnosis in clinical practice and education."
The practical implications of these four diagnostic steps are that they allow correct case assignment for periodontal health, gingivitis, and periodontitis.
The authors add that the validity of the proposed decision trees will have to be assessed with specific research that evaluates their diagnostic accuracy and their cost‐effectiveness.
They suggest that this research should be performed with clinicians with different levels of experience (students, general dental practitioners, specialists), operating in different settings (primary care, dental hospitals, specialist practice) and in different areas of the world.
Further reading:

Tonetti MS, Sanz M. Implementation of the new classification of periodontal diseases: Decision-making algorithms for clinical practice and education. J Clin Periodontol. 2019;46: 398-405. https://doi.org/10.1111/jcpe.13104