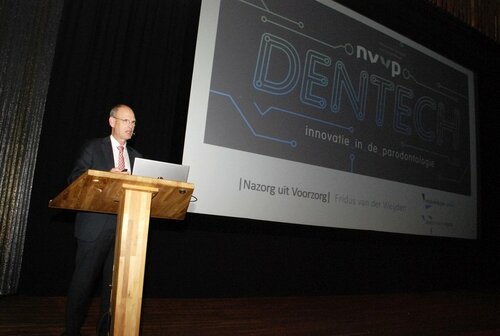 A recent meeting of the Dutch Society of Periodontology (NVvP) put the emphasis firmly on the impact of technology on periodontology.
The "Dentech: Innovation in periodontology" congress, held in the city of Ede on November 23, heard Christoph Ramseier (University of Bern, Switzerland, and winner of the 2018 EFP Research Prize in Periodontology) address the impact of e-cigarettes on periodontal care.
He noted that while these devices might help patients quit smoking there was also evidence that "vaping" could open the door for new people to become smokers later.
Other lectures tackled the topics of motivating patients via mobile applications (Melle Vroom and Lodewijk Gründemann), the use of air abrasives (Fridus van der Weijden), and the use of 3D radiography in reconstructive dentistry (Thomas Maal).
The meeting – attended by about 200 periodontists, dentists, and dental hygienists – also heard a short talk from Elmira Boloori about how social media can be used to motivate patients affected by periodontitis.
Research prize
At the meeting, the NVvP awarded its annual research prize to Laura Zuikaite from the Academic Centre for Dentistry Amsterdam (ACTA) for her paper "Prevalence of diabetes mellitus in people clinically diagnosed with periodontitis: a systematic review and meta-analysis of epidemiologic studies," which was published in the June 2018 edition of the EFP's Journal of Clinical Periodontology.
The prize is awarded every two years by the NVvP for research conducted in the field of periodontology. This is the second prize Dr Zuikaite has received for this paper, having previously been awarded the Best Publication of 2018 prize from the Dutch Society of Dental-Medical Interactions (VMTI).
The meeting also included the awarding of honorary membership of the NVvP to Prof van der Weijden (ACTA) for his service to the society
"The congress was very well attended, and we had interesting line-up of speakers," said NVvP president Monique Danser. "The evening before, we had a congress dinner with all the speakers, which is a tradition in our society. We can get acquainted and have a relaxed dinner together and in this way all the speakers are there the evening before the congress – so there are no worries about delayed flights, etc."
A video about the event has been published on the NVvP's Facebook page.