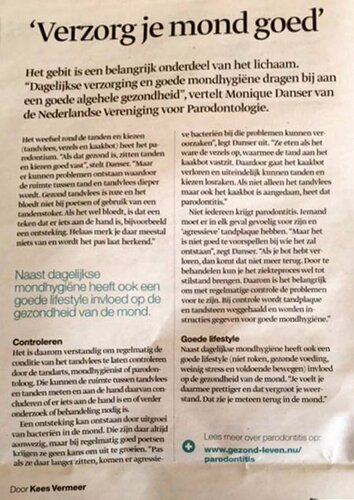 The Dutch Society of Periodontology (NVvP) has raised its profile and spread the message about the links between oral and general health by contributing to a magazine distributed with the Netherlands' most popular daily newspaper.
The society provided material for a special oral-health issue devoted of Media Planet, a monthly magazine which is distributed with De Telegraaf. A total of 400,000 copies were printed.
The article, headed "Take good care of your mouth," was written by NVvP president Monique Danser. It provided information about periodontal disease and explained the roles of the periodontist, the dentist, and the dental hygienist.
It also offered advice on what people can do to check their gum health, recommending the use of the Dutch periodontal screening index (DSPI) in dental check-ups.
"Daily care and good oral hygiene help achieved good overall health," Dr Danser explained in the article, which was published on June 20.
In addition to the 20-page printed magazine, there is a digital version of the article which also includes the trailer of the EFP-backed video The Sound of Periodontitis, with Dutch subtitles.
The magazine's editorial team approached the NVvP to seek its participation in this supplement devoted to oral health having heard that it was the leading scientific society in the field in the Netherlands.
The Dutch societies of dentists (KNMT) and oral hygienists (NVM) also provided material for the issue, as did various industry players.
"The purpose of participating was to increase awareness of periodontal diseases and spread more knowledge among the general public," said Danser. "Hopefully, more people will become aware of the importance of a healthy lifestyle and the connection between good oral health and general health."
A week after the special edition of Media Planet appeared, periodontist and NvVP member Wijand Teeuw had an article about the relationship between oral and general health published in another magazine distributed with De Telegraaf.
This article was related to a six-part television series about dentistry broadcasted by the RTL4 channel, in which dentists and periodontists from the Academic Centre for Dentistry Amsterdam (ACTA) were featured.