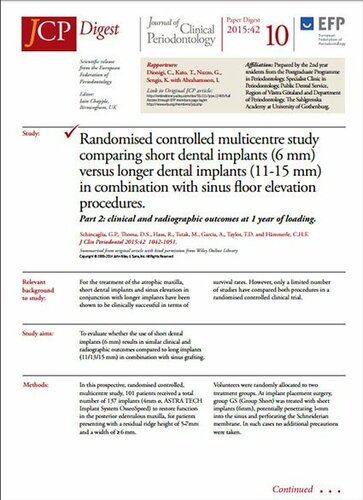 The use of short (6mm) dental implants results in similar clinical and radiographic outcomes to the use of long (11-15mm) implants combined with sinus grafting, according to a study published in the EFP's research summary JCP Digest.
The research, published in JCP Digest 10 (2015:42) showed that both short implants and long implants in combination with sinus floor elevation procedures demonstrated similar outcomes at one-year of function with regard to implant survival rates and marginal bone-level alterations.
It also showed that the crown-to-implant ratio did not affect the implant survival rate or the marginal bone level.
Researchers said that the impact of the study was to show that short implants represent a potential treatment alternative for restoring the atrophic posterior maxilla and that they seemed to provide function with fewer morbidity costs and less treatment time.
The research, conducted at six European and US centres, involved a prospective, randomised, controlled multicentre study in which 101 patients received a total of 137 implants. It was carried out by a team led by Gian Pietro Schincaglia from the School of Dentistry at the University of Ferrara, Italy.
Originally published in the October 2015 edition of the Journal of Clinical Periodontology, the research was summarised for JCP Digest by second-year residents of the postgraduate programme in periodontology at the Sahlgrenska Academy at the University of Gothenburg in Sweden.
JCP Digest 10 is available in English, French, German, Italian, Portuguese, and Spanish.