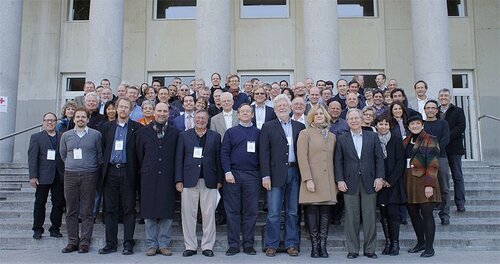 One of the most important events in recent years in the science of periodontology opens in Chicago on November 9, bringing together more than a hundred experts from across the world in a workshop whose effects are likely to be far-reaching and long-lasting.
The World Workshop on the Classification of Periodontal and Peri-Implant Diseases and Conditions has been organised by the EFP and the American Academy of Periodontology (AAP).
Experts from both organisations and from the rest of the world will meet for three days to review the scientific evidence and develop a new classification of periodontal and peri-implant diseases and conditions. A total of about 110 scientists are participating in the workshop, including 47 from the EFP.
The general aim of this workshop – held at the University of Chicago's Gleacher Center from November 9 to 11 – is to develop a consensus knowledge base that will enable the EFP and the AAP to promote a globally accepted classification of periodontal and peri-implant diseases.
The specific aim of this workshop is to develop a series of evidence-based reviews and consensus reports aimed towards the development and acceptance of a classification of periodontal and peri-implant diseases.
Last classification was back in 1999
The current classification of periodontal diseases used by periodontists around the world in their daily practice dates back to 1999.
Since then, there have been many important advances in the understanding of periodontal diseases and peri-implantitis has emerged as a major new problem. It is widely acknowledged that the time is right for a detailed and expert review of the classification of these diseases.
"The field of periodontology has advanced dramatically in recent years," noted EFP president Gernot Wimmer in a welcoming letter to workshop participants. "There are many limitations to the current classification – which was made almost 20 years ago – and these need to be tackled urgently. I hope this major workshop will result in a great outcome that will set the rules for the following years in our field of expertise."
He highlighted two issues that will be discussed – (1) including peri-implant diseases for the first time and (2) defining the periodontitis case for epidemiology and seeing whether it is possible to classify on the basis of aetiology rather than on clinical symptoms – and added, "We also hope to make the classification more applicable and user-friendly for the clinician in daily practice."
EFP secretary general Iain Chapple, who will co-chair one of the workshop's working groups, highlighted the question of how health and disease should be defined. "Is there such a thing as pristine health?" he asked. "Should we define health as clinical health, accepting a degree of inflammation. When does clinical health become gingivitis and when does that inflammation become a case of gingivitis?"
Building on the success of the 2012 joint workshop
The World Workshop is the second joint workshop held by the two organisations, following the 2012 joint workshop in Spain on periodontitis and systemic diseases. That event has proven to be a major milestone in the evolution of the understanding of the links between periodontal diseases and diabetes, cardiovascular diseases, and adverse pregnancy outcomes.

The impact of that pioneering workshop continues to be felt – for instance, the recently launched EFP/Oral-B Oral Health & Pregnancy project derives from the findings of the 2012 workshop.
"Based on an excellent previous joint workshop with the AAP in 2012, it was just logical to repeat the collaboration by staging another joint workshop on such an important topic with such a global impact," said Prof Wimmer.
The idea of the joint workshop on classification was proposed by EFP past presidents Phoebus Madianos and Søren Jepsen at a meeting with the AAP leadership during the celebration of the US organisation's 100-year anniversary in 2014.
The co-chairs of the Chicago workshop are Mariano Sanz and Søren Jepsen from the EFP, and Jack Caton and Panos Papapanou from the AAP. The other members of the organising committee are Iain Chapple and Tord Berglundh (EFP), and Gary Armitage and Brian Mealey (AAP), together with Maurizio Tonetti, editor-in-chief of the EFP's Journal of Clinical Periodontology and Ken Kornman, editor-in-chief of the AAP's Journal of Periodontology. The proceedings of the workshop will later be published in both official journals.
Four working groups
These proceedings comprise one introductory paper and 16 position papers that have been written in advance. In addition, four consensus papers will be developed at the conference by each of the working groups.
The introductory paper Introduction and summary to the classification of periodontal and peri-implant diseases has been written by Jack Caton, Mariano Sanz, Panos Papapanou, Søren Jepsen, Gary Armitage, Iain Chapple, Bryan Mealey, and Tord Berglundh.
Working Group 1: Gingival Diseases, chaired by Iain Chapple and Brian Mealey, will consider four position papers:
Periodontal health (authors: Klaus Lang, Mark Bartold);
Plaque-induced gingival diseases (Angelo Mariotti, Sinya Murakami);
Non-plaque-induced gingival diseases (Palle Holmstrup, Jacqueline Plemons, Joerg Meyle);
Case definitions and diagnostic considerations (Leonardo Trombelli, Dimitris Tatakis).
Working Group 2: Periodontitis chaired by Panos Papapanou and Mariano Sanz, will consider four position papers:
Acute forms of periodontitis (David Herrera, Magda Feres);
Chronic periodontitis (Keith Kirkwood, Raul Garcia, Thomas Kocher, Ian Needleman);
Early-onset periodontitis (Dan Fine, Bruno Loos);
Case definitions and diagnostic considerations (Maurizio Tonetti, Ken Kornman, Henry Greenwell).
Working Group 3: Developmental and acquired conditions and periodontal manifestations of systemic diseases, chaired by Jack Caton and Søren Jepsen, will consider three position papers:
Manifestations of systemic disease that affect the periodontal attachment apparatus, case definitions, and diagnostic considerations (Jasim Albandar, Christiano Susin, Francis Hughes);
Developmental and acquired conditions: mucogingival conditions, case definitions, and diagnostic considerations (Sandro Cortellini, Nabil Bissada);
Occlusal trauma and excessive occlusal forces: tooth-related issues (Jack Caton, Jingyaun Fan, Carlo Ercoli).
Working Group 4: Peri-Implant Diseases and Conditions, chaired by Gary Armitage and Tord Berglundh, will consider five position papers:
Peri-implant health (Mauricio Araujo, Jan Lindhe);
Peri-implant mucositis (Lisa Heitz-Mayfield, Giovanni Salvi);
Peri-implantitis (Frank Schwarz, Hom-Lay Wang);
Soft-tissue and hard-tissue deficiencies (Denis Tarnow, Christoph Hammerle);
Case definitions and diagnostic considerations (Stefan Renvert, Paulo Camargo).
Prof Wimmer offered "our sincere thanks to our educational partners and sponsors – the American Academy of Periodontology Foundation, Colgate, Johnson & Johnson, Geistlich, Sunstar, and Procter & Gamble – for their continued support and commitment to advancing periodontal science and practice."