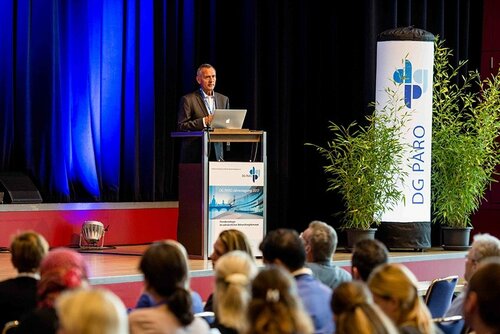 The German Society of Periodontology (DG PARO) recently held its annual meeting in Dresden, attended by almost 1,000 periodontists, dentists, and dental assistants.
Chaired by Prof Holger Jentsch (Leipzig) and Prof Thomas Hoffmann (Dresden), the meeting focused on the topic "periodontics in the dental treatment concept."
The event, held from September 21 to 23, featured scientific lectures, short presentations, a poster exhibition, and an industry symposium.
Subjects tackled ranged from the classification, diagnosis, and treatment of periodontitis and peri-implantitis to the microbiological, inflammatory, and immunological bases of periodontal disease.
Speakers included leading German scientists Prof Triantafyllos Chavakis and Prof Jürgen Gräßler from the Carl Gustav Carus University of Dresden, Prof Arne C. Rodloff from the University of Leipzig, and international experts such as Prof George Hajishengallis from the University of Pennsylvania, and Prof Maurizio Tonetti (editor of the EFP's Journal of Clinical Periodontology) from Hong Kong University.
During the conference prizes were awarded to various specialists and Prof Hoffmann was given DG PARO honorary membership "in recognition of his long-term commitment to DG PARO."