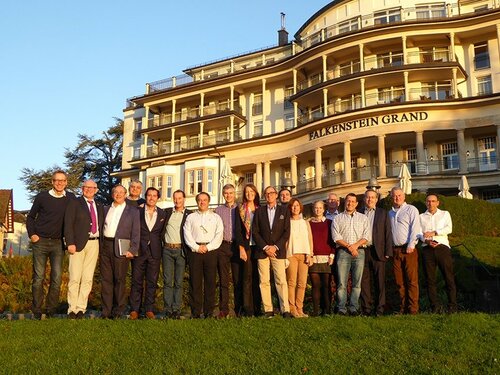 The EFP is pressing ahead with plans to expand internationally by creating a new category of member – countries from beyond Europe will be able to join the EFP as "international associate members."
The move comes after various countries – including India, Iran, and Japan – have expressed an interest in becoming members of the EFP.
As Iain Chapple, EFP secretary general, explained: "We have to think very carefully about how we can engage with those countries and their societies and make them feel part of the broader EFP family but without having huge general assembly gatherings with every country in the world represented, which would be too challenging financially and logistically."
Prof Chapple pointed out that this international expansion fitted in with three of the EFP's strategic aims – those of education and training, communication and awareness, and improved health and well-being. "So, if we can share our science and share our communications and our outputs with these non-European countries, we can spread our European message globally," he said.
The new international associate members would benefit from all the material that the EFP produces, which they would be able to use in their own countries "to inform policy, to inform practice, and to educate their own workforce."
This new category of membership was discussed at the EFP executive committee meeting in Frankfurt on October 13 and 14 and will be presented for formal approval to the federation's general assembly in Vienna on March 17, 2018.
Other decisions taken at the executive-committee meeting included finalising a new code of conduct for the EFP and its members. The creation of a code of ethical conduct will define the standards of transparency and professionality that the EFP expects of its national-society members and what they can expect of the EFP. The draft code of conduct will be refined over the coming months and is due to presented for approval to the general assembly in March 2018.
The committee also agreed to hold a Perio Master Clinic in Hong Kong in 2019 and received an update from the EuroPerio9 organising committee on how preparations are going for the congress, which takes place in June 2018 in Amsterdam.
A meeting of the new EFP Projects Committee took place during the two days of the executive-committee meeting, with some members of the committee participating via videoconference.
This committee reviewed the progress of the "branch" projects that the EFP is creating with its partners. The first of these projects, with Oral-B on oral health and pregnancy, launched in September.
A project with Colgate, dedicated to promoting the findings of the 2016 Perio Workshop on the relationship between periodontal disease and caries, is due to launch within the coming weeks. Other projects are being discussed and developed with the three remaining partners: Dentaid, Johnson & Johnson, and Sunstar.