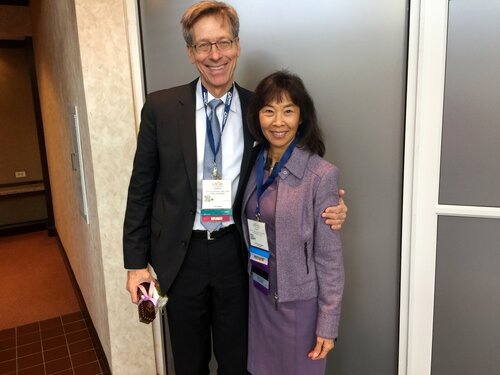 The EFP and the American Academy of Periodontology (AAP) have announced that they will hold a joint scientific workshop in 2017 devoted to a new classification of periodontal and peri-implant diseases.
The "2017 World Workshop on the Classification of Periodontal and Peri-Implant Diseases", which will take place in Chicago, follows 2012's 9th European Workshop in Periodontology, held in La Granja de San Ildefonso in Spain. This was organised jointly by the EFP and the AAP, and reviewed the scientific evidence linking periodontitis to general diseases such as diabetes and cardiovascular disease. The impact of that collaboration is still being felt.
Plans for the Chicago workshop were further advanced at the AAP's 101st annual meeting, which took place in Orlando, Florida in November, where AAP outgoing president Joan Otomo-Corgel and EFP president Søren Jepsen (see the photo) chaired a meeting between the AAP leadership and a high-level EFP delegation (European Workshop committee's chairman and World Workshop's co-chair Mariano Sanz, EFP secretary general Stefan Renvert, EFP treasurer Jörg Meyle, and 2017 EFP president Gernot Wimmer).
At that annual meeting, the AAP elected Wayne Aldredge as new president, so Joan Otomo-Corgel is currently the AAP's immediate past president.
"The EFP is convinced that the planned 2017 workshop provides a great opportunity to deepen our excellent relationship with the AAP through scientific dialogue and will have a global impact." said Prof Jepsen.
Søren Jepsen joins the AAP's Jack Caton, AAP's Panos Papapanou, and EFP's Mariano Sanz as co-chairman of this 2017 world workshop's organising committee. The details of what promises to be a major event in periodontology will be disclosed over the coming month.