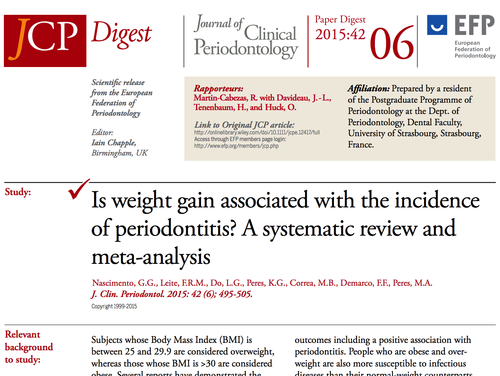 People who are overweight or obese have an increased risk of developing periodontitis, according to research published in JCP Digest 06 (2015:42).
Researchers said that clinicians should be aware of the role played by weight gain in the development of new cases of periodontitis and that "prevention should be based on a common risk factor approach."
The research summarised in this edition of the JCP Digest examined studies which had suggested an increased risk of periodontitis for people who are overweight (defined as having a Body Mass Index or BMI of between 25 and 29.9) or obese (a BMI of 30 or above).
Five studies, involving almost 43,000 participants, were considered. The systematic review and meta-analysis "clearly demonstrated that weight gain increases the risk of incident periodontitis."
The study, published in full in the Journal of Clinical Periodontology (JCP) in June 2015, was carried out by researchers at the University of Adelaide in Australia and the Federal University of Pelotas in Brazil.
The research was summarised for the JCP Digest by a resident of the postgraduate programme of periodontology at the University of Strasbourg in France.