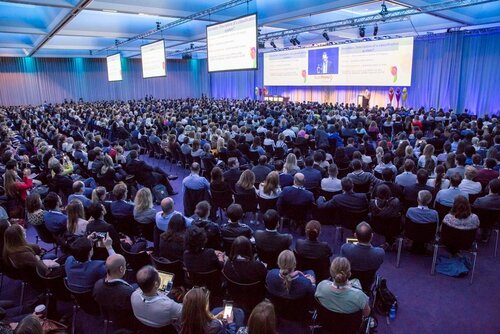 The EFP and the American Academy of Periodontology (AAP) have pledged to develop strategies to disseminate the new classification of periodontal and peri-implant diseases, unveiled at EuroPerio9 on Friday 22 June.
The two organisations will set up a joint standing committee and steering group to oversee moves to explain the new classification and train oral-healthcare teams on how to implement it in daily clinical practice.
The new classification was presented formally for the first time in a packed auditorium at RAI Amsterdam, in a session moderated by Maurizio Tonetti (EFP) and Kenneth Kornman (AAP).
This session featured a comprehensive overview of the outcomes of the two organisations' World Workshop on the Classification of Periodontal and Peri-Implant Diseases and Conditions, held in Chicago in November 2017.
The News from the World Workshop session featured presentations from members of the World Workshop's organising committee, including Tord Berglundh, Iain Chapple, Søren Jepsen, Panos Papapanou, and Mariano Sanz.
They reviewed and recategorised forms of periodontitis, introduced the new "staging" and "grading" framework for periodontitis, and announced the first classification for peri-implant diseases.
"The new classification of periodontal and peri-implant diseases and conditions will have a global impact on the practice of periodontology and implant dentistry," said EFP president Anton Sculean.
"It is important to highlight the collaborative aspect of this effort: working with the AAP and experts from all over the world to produce this consensus was a major achievement, and we hope that this will lead to further joint guidelines to ensure better patient care worldwide."
The AAP's president, Steven R. Daniel, said that the result of this "landmark" workshop was a "redesigned disease classification that guides comprehensive treatment planning and allows for a personalized approach to patient care."
He added that the proceedings – which have been published simultaneously in the EFP's Journal of Clinical Periodontology and the AAP's Journal of Periodontology – "will make an indelible impact on the scientific advancement of periodontal care and practice."
See also: Proceedings of ground-breaking World Workshop on new classification are published