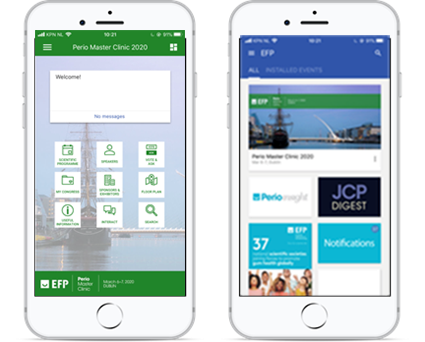 The EFP App, the mobile-phone application for accessing EFP content, will help participants in Perio Master Clinic 2020 in Dublin to get the most out of the event.
Not only will they be able to browse the programme, find out more about the speakers, but the app will also enable them to take part in the congress's two interactive sessions.
The first of these sessions is the interactive case presentation on reconstructive surgery versus extraction and implant placement (Friday, March 6,16.50-18.00). Moderated by Giovanni Salvi (Switzerland), the session features a case presentation from David Nisand (France) and a panel comprising Tali Chackartchi (Israel), Andreas Stavropoulos (Sweden), and Phoebus Madianos (Greece).
Participants will be able to ask questions via the EFP App and vote on the choice of procedure in the case presented.
They will also be able to register votes during the final session of Perio Master Clinic 2020 on complication management after reconstructive surgery at natural teeth and dental implants (Saturday, March 7,15.00-17.05).
Moderated by Tiernan O'Brien and Ionnais Polyzois (both Ireland), the session features presentations from Kevin Murphy (US) on managing complications after reconstructive periodontal surgery, France Lambert (Belgium) on managing complications after aesthetic periodontal plastic surgery, Daniel Buser (Switzerland) on the management of implant complications in aesthetic areas, and Markus Hürzeler (Germany) on the management of soft-tissue complications at implants.
During Perio Master Clinic 2020, participants will be able to use the App to receive updates about the programme, information on the event, and to interact with other users.
As well as the dedicated congress application, the EFP App provides access to key EFP content via mobile phones and tablets. It has been designed to be highly visual, dynamic, and intuitive and to complement the www.efp.org website.
The EFP App can be downloaded from the Apple App Store or the Google Play Store.