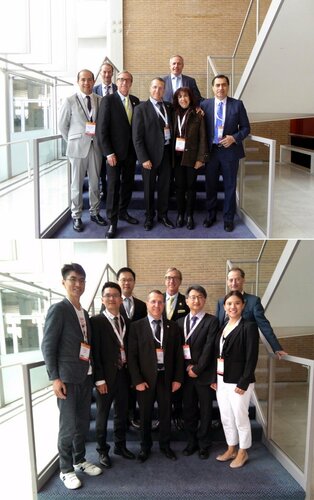 The EFP general assembly on March 30, held in the Swiss city of Bern, marks a key moment in the federation's evolution into the leading global voice in periodontology.
Six national societies of periodontology from Latin America, the Middle East, East Asia, and Australasia are set to be approved as the EFP's first "international associate members" and thereby formally inaugurate the new "global" phase of the federation.
The periodontal societies of Argentina, Australia, Brazil, Lebanon, Mexico, and Taiwan have met the requirements set by the EFP for this new category of member, which was approved at last year's general assembly in Vienna.
The new international associate member societies gain access to EFP projects, newsletters, and publications, as well as reduced fees for the Journal of Clinical Periodontology, EuroPerio congresses, and other educational events. They will also be supported by the federation's immediate past president.
"Joining the EFP is an important step towards achieving our goals of improving oral health in Mexico and contributing to international efforts to tackle this widespread problem," said Alejandro García Huerta, president of the Mexican Association of Periodontology.
In addition to these six societies, the Georgian Society of Periodontology will become the latest European member, joining as an associate member. As a result, the EFP will leave Bern with 37 affiliated member societies: 26 full members, five associate members, and the six international associate members.
Becoming the leading global force in periodontal science and clinical practice has been part of the EFP's strategy in recent years.
The arrival of the new international associate members follows Perio Master Clinic 2019, held at the beginning of March in Hong Kong, which was the EFP's first event outside Europe.
'Exciting new phase'
"This is definitely a very exciting new phase in the development, visibility, and global influence of the federation," said Anton Sculean, the EFP president whose term in office ends at the general assembly.
"It offers a unique opportunity to disseminate all the knowledge and information related to the prevention and treatment of periodontal and peri-implant diseases and to spread the EFP philosophy on a global scale."
"I believe it is an important landmark," said Filippo Graziani, who succeeds Prof Sculean as president. "I think that this move of including international associate members confirms that the EFP is achieving its strategic objectives and that the entire world is looking at us and wants to stay close to us."
On top of that, he added, "it allows us to open up to different countries and it enhances our public – so every time we do a project that might have some benefit for the public, it won't be limited to the European population but can reach out to the entire world."