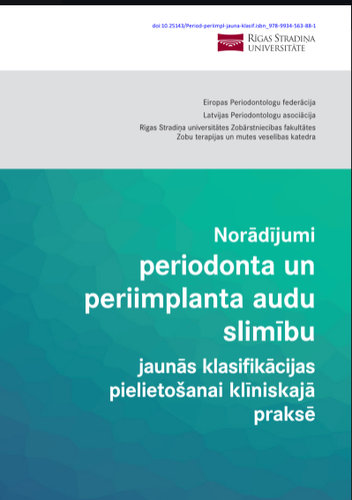 The EFP's guidance notes for clinicians on the new classification of periodontal and peri-implant diseases and conditions have been published in Latvian as a result of a collaboration between the Latvian Society of Periodontology and the Riga Stradiņš University.
The five guidance documents produced by the EFP in 2020 have been translated and adapted and gathered together in a single publication.
The guidance notes offer advice to clinicians on the implementation of the new classification which was drawn up by the EFP and the American Academy of Periodontology (AAP) at the World Workshop on the Classification of Periodontal and Peri-implant Diseases and Conditions, held in Chicago in November 2017.
The notes cover (1) Periodontal health and gingival diseases and conditions, (2) Periodontitis, (3) Periodontitis: Clinical decision tree for staging and grading, (4) Systemic and other periodontal conditions, (5) Peri-implant health, peri-implant mucositis, and peri-implantitis.