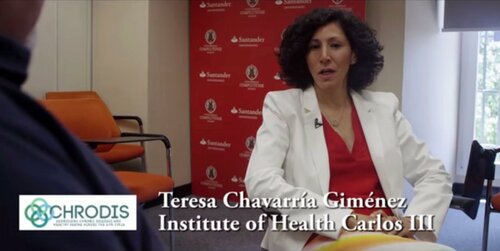 The EFP has been accepted as a collaborating partner in the Chrodis joint action, a European Union initiative, whose primary goal is "addressing chronic diseases and healthy ageing across the life cycle".
This is a significant step forward for the EFP and provides an excellent opportunity to be able to work together with the main players in Europe which are involved in health promotion.
The EFP will now be able to liaise with around 70 partners from 26 countries, including 28 fellow collaborating partners, which are involved in four specific programmes or action packages: knowledge platform, health promotion, multi-morbidity and type 2 diabetes. Among those partners there are as well 38 government departments and medical organisations, as well as five European medical institutions.
"The first step is to clearly identify what we are doing at Chrodis at our action package level, and the main interests of the EFP on each of our action packages," Chrodis coordinator Teresa Chavarría explains. "I think that the EFP has very important things to say and to show us regarding health promotion and early diagnosis of patients with diabetes type 2," she highlights. Watch here a brief video statement where Ms Chavarría welcomes the EFP.
JA-Chrodis is the largest joint action co-financed under the EU Health Programme to date. Joint actions are designed and financed by member-state authorities and the EU to address specific priorities under the EU Health Programme.
Reducing the burden of chronic diseases such as diabetes, cardiovascular disease, cancer and mental disorders is a priority of EU member states and at the EU policy level, because they affect eight out of 10 people aged over 65 in Europe. Up to 80% of health care budgets across the EU are spent on treating chronic diseases.
"There is a wealth of knowledge within EU member states on effective and efficient ways to prevent and manage cardiovascular disease, stroke and diabetes type-2," notes the JA-Chrodis website. "There is great potential to reduce the burden of chronic disease by making better use of this knowledge."