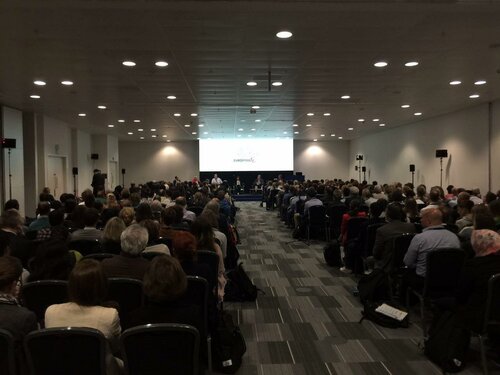 The ground-breaking film The Sound of Periodontitis, which received its world premiere at EuroPerio8 on June 3, has received a very positive reception, with nine out of ten viewers finding the patient-focused documentary "interesting", according to an online survey.
The 10-minute documentary film, subtitled The patient's view of gum disease, follows four patients who talk about their experiences of periodontitis, peri-implantitis, and periodontal treatment. It explores the experience of living with periodontal disease and receiving treatment, showing both the substantial negative effects of periodontal disease and the beneficial – even life-changing – effects of treatment.
The online survey, carried out via the EFP's website, shows so far that:
- 90% of respondents thought the film was interesting;
- 64% expected to use insights and ideas from the film;
- 59% thought the film would improve their activities in periodontal health; and
- 56% said that they had learned new insights into periodontal health, treatment or patient perspectives as a result of the documentary.
You can see the film and take part in the survey on this page of the EFP website.
The Sound of Periodontitis is already having a significant impact. Dr Jenny Godson, the national lead for oral health improvement at Public Health England, said during the discussion session at EuroPerio8 how pleased she was to have been invited and how much she had learnt from the film.
A leader article in the British Dental Journal said: "The film offers fresh insights into how periodontal disease affects people and how these insights might be used to improve communication with patients and in lobbying to promote the prioritisation of periodontal health.
"Those behind its conception, research and execution are to be congratulated. It is definitely a step in the right direction and most importantly it begins to address the issue of patient identification of periodontal disease as a real entity rather than a theoretical concept that happens to someone else."
Ian Needleman, professor of restorative dentistry and evidence-based health care at University College London (UCL) Eastman Dental Institute, who chaired the film's project's working group, is pleased at the response to The Sound of Periodontitis.
"The people in the film describe the devastating effects of periodontal disease lucidly and in the real world," said Prof. Needleman. "We hope that patients will find it helpful to understand that many others are affected and that there is real hope with treatment.
"I must extend my huge thanks to Angela, John, Julian and Pam for taking part in the film and the film's working group of members of the British Society of Periodontology, British Society of Dental Hygiene and Therapy, and the UCL Public Engagement Unit."