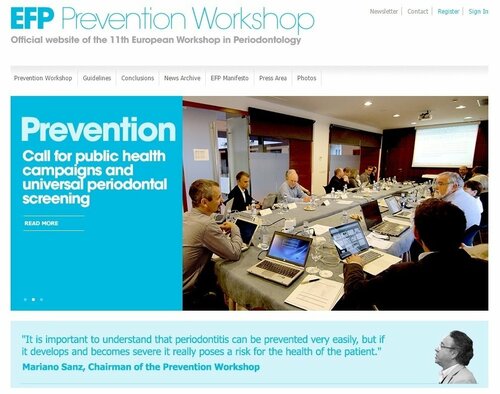 The EFP has launched a website dedicated to disseminating the conclusions of the XI European Workshop in Periodontology (the "Prevention Workshop") which was held in November last year.
The new site – prevention.efp.org – is sponsored by Procter & Gamble and Johnson & Johnson, which also sponsored the workshop and are among the EFP's partners.
This special site provides a wealth of information coming from the Prevention Workshop, including the full guidelines that were laid down by the researchers who took part in the event. As well as the conclusions of the workshop, the site also provides video interviews with the chairmen of the four working groups and a link to the EFP Manifesto.
The Prevention Workshop took place in November 2014 in La Granja de San Ildefonso, in Spain. Its focus was the prevention of periodontal and peri-implant diseases and more than 75 top-level participants – international experts in oral-health science, research, protocols and products – systematically reviewed recent studies to produce conclusions relevant to professionals in the dental and medical communities.
The conclusions signed off by the chairmen of the working groups called for the findings to be included in public-health campaigns to highlight the risk of conditions such as peri-implantitis which has grown alarmingly in recent years. The Workshop's conclusions were published in April in a special supplement of the EFP's scientific publication, the Journal of Clinical Periodontology.
"It is important to understand that periodontitis can be prevented very easily, but if it develops and becomes severe it really poses a risk for the health of the patient," said Mariano Sanz, chairman of the Prevention Workshop.
In the 20 years since the first EFP Workshop was held, its 11 editions have focused on key subjects for the entire family oral-healthcare professionals, including such topics as periodontal infections, periodontal and systemic disease, and periodontal plastic surgery and soft-tissue regeneration.
This year's Workshop, to be held in Madrid, will focus on communications and how the EFP can maximise the impact of its key messages about periodontal health.