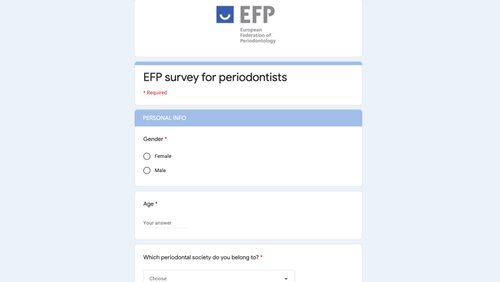 The EFP has launched a survey to evaluate how the Covid-19 (SARS-CoV-2) pandemic is affecting the oral-healthcare sector.
The survey, which can be accessed via the EFP website, is aimed at periodontists and dental hygienists and takes about eight minutes to complete.
The questions cover topics including how clinical protocols have changed since the outbreak of the pandemic, which treatments are being provided at present, and which ones are being prioritised.
Survey participants are asked about the precautions they are taking for performing non-surgical treatment, periodontal surgery, and supportive therapy. And there are also questions about the use of protective equipment and the potential longer-term economic impact of the pandemic on periodontists.
The aim of the survey is to understand how much the Covid-19 pandemic has affected professionals' daily lives and to find out how they see the outlook for the future.
The launch of the survey follows last week's publication of a set of infographics – EFP suggestions for the management of a dental clinic during the Covid-19 pandemic – that provide protocols on how dental practices can operate safely and manage their patients before, during, and after their treatment.
"The survey is structured to further enhance the suggestions that the project committee proposed with the Covid-19 infographics," said Filippo Graziani, chair of the EFP's European project committee which devised the survey.
"Most importantly, it aims to evaluate the tremendous effort made by the periodontal community worldwide in keeping on supporting the population in these dire times, despite the known health hazard. I personally believe that this has to be acknowledged and highlighted."