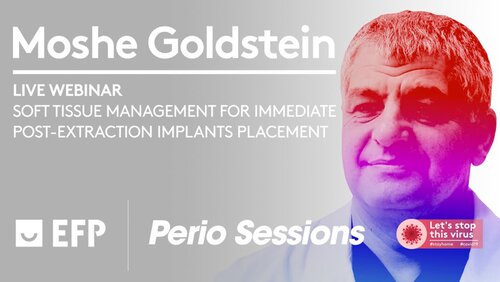 In the fifth EFP Perio Sessions live webinar, which took place on Thursday 21 May, Moshe Goldstein delivered a presentation on soft-tissue management for immediate post-extraction implants.
He presented various possible treatment options for the proper management and augmentation of soft tissue in connection with the immediate placement of implants in extraction sites.
The webinar, moderated by Darko Božić (president of the Croatian Society of Periodontology and the EFP's webmaster), provided participants with various tools to use for creating complete coverage of the surgical site in most cases of immediate post-extraction implants, especially when combined with regenerative procedures.
Prof Goldstein – chair of the EFP's postgraduate education committee and professor of periodontology at the Hadassah-Hebrew University Medical Center, Jerusalem, Israel – reviewed and presented different surgical approaches of autogenous tissue-grafting techniques, such as pedicle grafts and free grafts.
He also discussed the use of soft-tissue substitute materials as an alternative to using autogenous tissue.
In the question-and-answer session after the presentation, topics covered included multiple extractions versus retaining residual roots in the interim, when pedicle flaps are appropriate and when to use connective-tissue grafts, the use of collagen matrices, and whether implants can be placed in infected sites.
For rights reasons, it was not possible to record this webinar, but the other webinars in EFP Perio Sessions are available in a special playlist on the EFP's YouTube channel.
The next webinar will take place on Thursday 28 May at 19:00 when Ali Cekici, associate professor of periodontology at Istanbul University in Turkey will address the questions of whether sex hormones have an effect on periodontal health. Registration for this webinar is open.