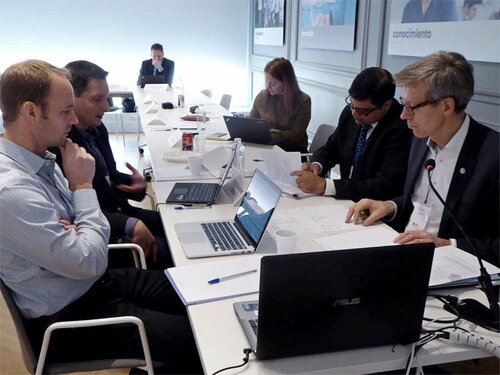 Work is well under way on creating the EFP's latest outreach project, which will focus on the links between periodontal disease and diabetes.
The project, produced thanks to an unrestricted grant from EFP partner Sunstar, will provide a wide range of written and graphic material based on the findings of the Perio-Diabetes Workshop, which was held in Madrid in February 2017.
The Perio & Diabetes project will be centred on a dedicated website – due to launch in November – that will include recommendation guidelines specially produced for different audiences: dental professionals, other medical professionals, researchers, policymakers, patients and the public, and the media.
Information will also be presented in the form of clear and lively infographics, and the scientific basis of the campaign will be set out in three summary reports that explain the key findings of the Perio-Diabetes Workshop, which was organized jointly by the EFP and the International Diabetes Federation (IDF), in partnership with Sunstar.
The project hopes to have a major impact on healthcare by encouraging dentists and doctors to work more closely together in tackling periodontal diseases and diabetes. There is a bidirectional relationship between the two diseases, which means that people with periodontitis have a higher risk of diabetes, while people with diabetes are three times more likely to develop periodontal disease.
Filippo Graziani, the EFP president-elect who is co-ordinating the project, said: "All the material for the Perio & Diabetes project is based on the findings of an EFP-organized workshop rather than based on previous knowledge. We have some amazing graphics, which are a great way to deliver the information. And, most importantly, we address all the different types of public that might be interested in this material."
The Perio & Diabetes campaign will be the third "partner project" that the EFP has launched. It follows Oral Health & Pregnancy (in partnership with Oral-B, launched in September 2017) and Perio & Caries (with Colgate, launched in January 2018).
The EFP is discussing future projects with its other partners: Dentaid, Johnson & Johnson, Geistlich Biomaterials, and GSK.
Iain Chapple, EFP secretary general, commented: "We cannot underestimate the importance and impact of this project on policymakers, the public, the professions, and our patients. We have already been approached by one European country at governmental health-policy level, wishing to access the evidence and guidelines in order to inform its own national policies.
"What is critically important is that the superb evidence from the 2012 EFP/AAP Perio Workshop on periodontitis and systemic diseases was reviewed, updated, and developed jointly by the EFP and IDF to address both dental and medical audiences simultaneously, as well as the full breadth of our stakeholders."