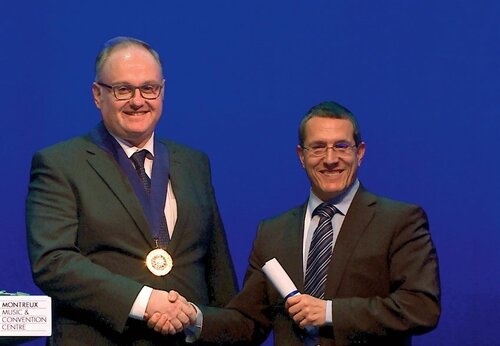 The European Orthodontic Society (EOS) has given its Distinguished Teacher Award for 2018 to EFP president Anton Sculean.
Prof Sculean, who is chair of the Department of Periodontology and executive director of the School of Dental Medicine at the University of Bern in Switzerland, is the first periodontist to receive this annual award.
The Distinguished Teacher Award is given annually by the EOS to a well-known speaker or teacher in the orthodontic field. The award includes funding for two one-day lectures in different parts of Europe.
The first of Anton Sculean's lectures has already been given, at the Ioannis Drakopoulos Amphitheatre at the National and Kapodistrian University of Athens (NKUA) in Greece, on the topic of recession coverage in orthodontic patients.
The second lecture is scheduled for September 7 at the University of Naples Federico II in Italy.
Through organising this award, the EOS aims to contribute to the quality of the postgraduate programmes in Europe.