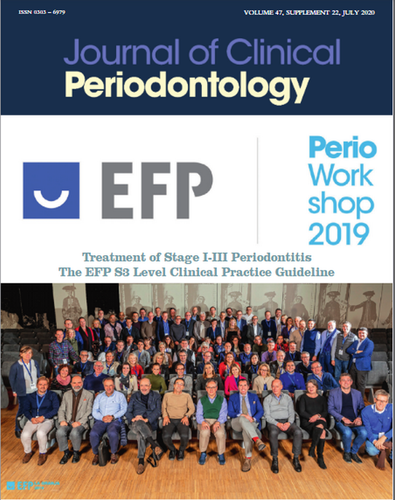 The EFP's S3-level clinical practice guideline on the treatment of stage IV periodontitis will be presented formally for the first time at EuroPerio10 in Copenhagen.
The guideline, the product of Perio Workshop 2021 which took place in November last year, has now been completed and will be published as a special open-access supplement of the Journal of Clinical Periodontology before EuroPerio10 begins.
On Thursday 16 June, a session in the main congress hall at EuroPerio10 will focus on the guideline's recommendations on the multidisciplinary treatment of stage IV periodontitis, featuring contributions from specialists in the various disciplines involved in treating the most advanced form of periodontitis.
Chaired by Mario Aimetti (Italy), the session will feature three presentations:
Orthodontics in patients with periodontitis, by Spyridon Papageorgiou (Switzerland).
Masticatory dysfunction in patients with periodontitis, by Nicola Zitzmann (Switzerland).
Prothesis in patients with periodontitis, by Klaus Gottfredsen (Denmark).
David Herrera, the scientific chair of EuroPerio10, who also chaired Perio Workshop 2021, commented: "One of the main challenges in the management of periodontitis in stage IV is that periodontal treatment alone will not be enough. Therefore, when treating those patients, first you follow the steps and recommendations of the 2020 guideline, for periodontitis in stages I-III, but then you need to work in close contact with other dental specialities to restore the lost function and manage the disease sequelae.
"You may need to work with an orthodontist, and Dr. Papageorgiou will explain how; you will need to work with a prosthodontist to tackle masticatory disfunction, and Dr. Zitzman will help us with that; and, very often you will need to prosthetically rehabilitate the patients, so the guidance of experts, such as Dr. Gottfredsen, would be crucial."
The EFP's first clinical practice guideline, published in 2020, on the treatment of periodontitis stages I-III will also be well covered in Copenhagen.
On Thursday 16 June, there will be a session focusing on the guideline's recommendations on the use of adjunctive therapies in step 2 of periodontal therapy. This session will be chaired by Bahar Eren Kuru (Turkey), with presentations by Wim Teughels (Belgium), on the use of antimicrobials and probiotics, George Belibasakis (Sweden), on the use of adjunctive host modulators, and Alexandra Stähli (Switzerland), on physical innovative approaches.
On the same day, another aspect of the guideline – critical factors in surgical design for the treatment of furcation defects – will be the focus of attention, in a session chaired by Søren Jepsen, former EFP president and scientific chair of EuroPerio9. The session will feature presentations from Maurizio Tonetti (China), on when to regenerate, and Peter Eickholz (Germany), on when to resect, followed by a debate.
On Friday 17 June, the guideline's recommendation on hygiene and prevention come under the spotlight in a session on how to improve supragingival biofilm control, in steps 1 and 4 (supportive periodontal care) of periodontal therapy, which will be chaired by Dagmar Slot (Netherlands). Fridus van der Weijden (Netherlands) will discuss modern approaches to mechanical biofilm control, Maria Clotilde Carra (France) will explain how to modify the behaviour in oral hygiene practices, and Elena Figuero (Spain) will focus on chemical biofilm control.
A final session on the guideline takes place on Saturday 18 June, when Rodrigo López (Denmark) will chair a session on risk factor control in periodontal therapy, both as part of step 1 and in supportive periodontal care. There will be contributions from Christoph Ramseier (Switzerland), on modern approaches to risk-factor control, Philip Preshaw (United Kingdom) on how to work with a patient who has diabetes, and Dagmar Fossa Bunaes (Norway), on how to deal with patients who smoke.
EuroPerio10, held at the Bella Centre in Copenhagen, takes place from June 15 to June 18. The deadline for "early bird" registration – which means savings of up to 35% compared to onsite booking – is Wednesday 2 March.