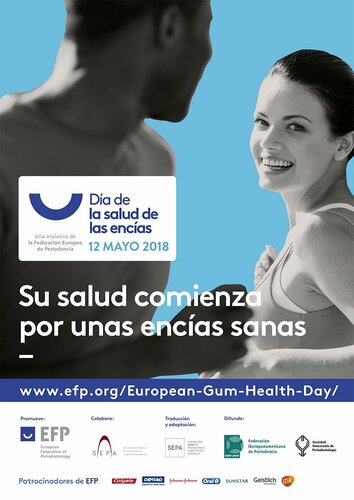 The EFP's annual periodontal-health awareness day is going global, thanks to an agreement with the Ibero-Panamerican Federation of Periodontology (FIPP), whose members take part in activities to coincide with European Gum Health Day 2018 on May 12.
The eight Caribbean and South American members of the FIPP – the national periodontology societies of Argentina, Bolivia, Chile, the Dominican Republic, Ecuador, Peru, Uruguay, and Venezuela – are joining 29 EFP-affiliated societies in promoting the message that "health begins with healthy gums."
In addition, the periodontology societies from Colombia and Panama are joining European Gum Health Day 2018.
In total, 39 national scientific societies of periodontology in Europe, North Africa, the Middle East, and Latin America are actively taking part in this international awareness initiative, making it more global than ever.
SEPA, the Spanish society of periodontology, has acted as a bridgehead, being a member of both the EFP and the FIPP. SEPA encouraged the FIPP to join the awareness-day initiative and has provided the Latin American societies with Spanish translations of EFP-produced materials for European Gum Health Day 2018. These include messages, posters, logos, and infographics.
Global strategy
This new international partnership is an example of the EFP's strategy of looking beyond Europe as it consolidates its position as the global benchmark in periodontology and implant dentistry.
Both the FIPP and its affiliated societies are open to increasing their involvement in the annual awareness day in future years.
"We are very excited that the Latin American perio societies are for the first time joining EGHD18 and that they are helping us to convey the awareness message 'Health begins with healthy gums' ever further," said Xavier Struillou, co-ordinator of EGHD18.
He added that the collaboration with the FIPP provided a new opportunity to reach a bigger audience and to educate more people about gum health. "Thank you very much to the FIPP and all its affiliated societies for their interest and their support," added Dr Struillou.
"Relevance, pervasiveness, and responses to gum disease are the same both in Europe and in Latin America, so it makes sense that national scientific societies from both continents work together to promote gum health," said SEPA president Adrián Guerrero.
"We at SEPA are extremely happy and thankful to have held an extremely positive, and enriching dialogue with both Francisco Daniels, president of the FIPP, and Xiomara Giménez, its secretary-general, regarding the federation's enthusiastic support for European Gum Health Day 2018."
Dr Guerrero pointed to several actions that will take place in Latin America to coincide with European Gum Health Day 2018, including free periodontal check-ups in Venezuela, a major conference in the Dominican Republic, and a Week of Gum Health in Chile.
"We are confident that the participation of FIPP-affiliated societies in European Gum Health Day 2018 will be a great success and that more events and societies will join this initiative," he added.