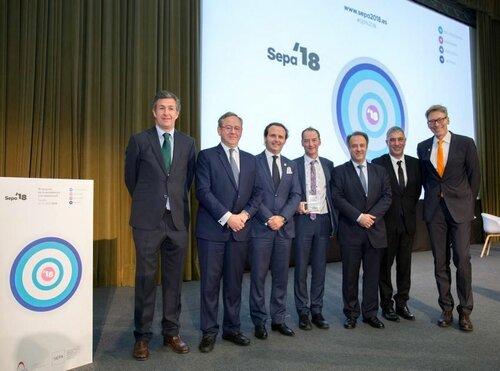 During its recent annual congress in Seville, the SEPA Foundation prize for health promotion was awarded to the EFP in recognition of the federation's scientific and outreach work.
The nomination for the prize highlighted the value of the triennial EuroPerio congresses, the global impact of the EFP Perio Workshop, and the impact of the Journal of Clinical Periodontology. It also mentioned efforts in promoting periodontology and general health and cited the special relationships between the EFP and SEPA, one of the federation's founding members.
David Herrera, former SEPA president, and Adrián Guerrero, SEPA's current president, proposed the EFP for the health-promotion prize.
The nomination was supported by other senior figures in SEPA, who also have strong connections with the EFP: Mariano Sanz (chair of the EFP workshop committee), Juan Blanco (EFP president 2016-2017), and Antonio Liñares (junior member, EFP communications committee).
Accepting the prize, EFP secretary general Iain Chapple highlighted the excellent understanding between the EFP and SEPA and the need for the two organisations to continue collaborating for the benefit of improving the population's oral and general health.
"This is a great honour for the EFP and I am proud to receive it on behalf of the federation and its members," said Iain Chapple. "SEPA has been extremely supportive of the EFP over many years, and while the EFP recently relocated its secretariat to a dedicated EFP office, it remains in Madrid and I am sure the close working relationship with our friends at SEPA will also remain and continue long into the future."