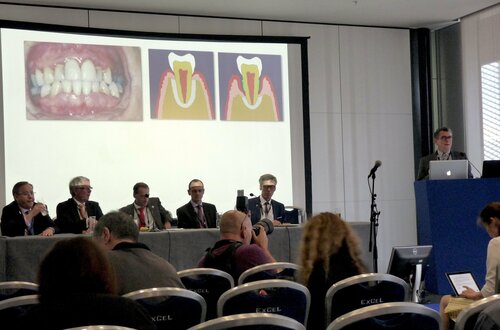 25 Years of Periodontology in Europe was as much a statement about the future of perio as it was a comprehensive review of the main areas of research fuelling perio science over the past 25 years.
Presented by leading periodontal scientists Mariano Sanz and Maurizio Tonetti, this EuroPerio8 closing ceremony event offered an assessment of how much we know in periodontology today and where the opportunities lie to turn knowledge into greater understanding of the key issues shaping the future.
In the months prior to EuroPerio8, interviews were filmed specifically for this event with some of the foremost experts in periodontology and principal figures in the history of the EFP: Tord Berglundh, Iain Chapple, Pierpaolo Cortellini, Jean-Louis Giovannoli, David Herrera, Niklaus Lang, Jan Lindhe, Phoebus Madianos, Wim Teughels, Stefan Renvert, Massimo De Sanctis, Ubele van der Velden, Otto Zuhr.
In its aim to define the main opportunities for enhancing research and clinical engagement, the review covered the widest spectrum of periodontal subjects:
- the aetiology and pathogenesis of periodontal disease;
- the translation of research into practice
- disease susceptibility
- the host immune response
- the diversity of oral biofilm
- systemic antibiotics
- targeting therapy in products
- probiotics and prebiotics
- links with systemic conditions
- dentists as general health counsellors
- aesthetics in reconstructive surgery
- the importance of saving teeth
- the evolution of periodontal regeneration
- patient compliance
- implant survival
- peri-implant health
- prevention and early diagnosis
- periodontal plastic techniques
- multidisciplinary approaches
- soft tissue management outcomes
- the periodontal ligament
Before EuroPerio8 chairman Francis Hughes said a final farewell to delegates, the event presenters Sanz and Tonetti brought everyone up to date on the key areas of EFP activity: postgraduate education, the Journal of Clinical Periodontology, the European Workshops in Periodontology, and the EuroPerio triennial congress.
The emotional high of the event was reserved for a tribute to the architects of modern periodontology, Swedish researcher Jan Lindhe, and Swiss professor Niklaus Lang. Both were live on stage for a short interview.
This event was a major success in terms of attendance and interest - and by connecting with the past, it offered a vision of what the future holds in store for periodontology.