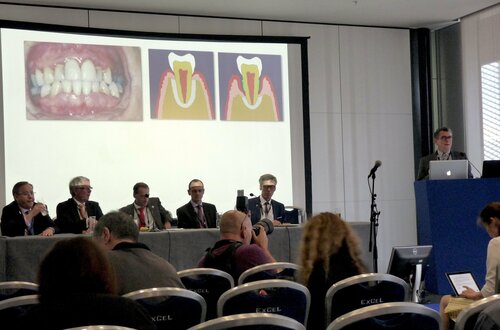 The first full afternoon of scientific activity at EuroPerio8 began with an EFP press conference calling for greater awareness of both the prevalence and personal impact of periodontal and peri-implant diseases.
EFP experts, led by EuroPerio8 organising committee chairman Francis Hughes, carefully outlined the key issues in periodontology today to members of the world's dental press, highlighting statistics showing that, in most countries, severe periodontitis is suffered by over 10% of the populace.
EFP president Sören Jepsen invited dental journalists to sign and promote the EFP Manifesto on Periodontal and General Health, while EFP general secretary-elect Iain Chapple explained the current evidence linking periodontal diseases to systemic conditions.
Concern over the growth of peri-implant diseases was voiced by EFP general secretary and world authority on the subject, Stefan Renvert, who delivered basic statistics and explained some of the difficulties involved in diagnosing and treating these conditions.
Meanwhile, fresh from the world premiere at EuroPerio8 on Wednesday of a flm on patient perspectives of periodontitis - The Sound of Periodontitis - the leader of this project, Ian Needleman, stressed the level of damage done physically, psychologically, and socially to sufferers of periodontal conditions. See the film here.
A summary of recent surgical advances in hard and soft tissue management was delivered by Mariano Sanz, the scientific chairman of EuroPerio8 and chairman of the EFP's annual scientific consensus meetings, the European Workshop in Periodontology.