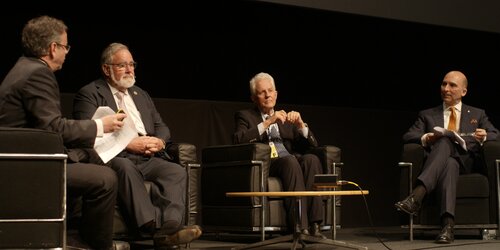 A surprise two-part closing ceremony brought the curtain down on EuroPerio8 in London and set the tone for the ninth EuroPerio meeting scheduled for Amsterdam in 2018.
The final event of a London meeting which brought some 9,500 attendees to the UK capital came to a close as chairman of the organisers, Francis Hughes, underlined his gratitude to the thousands of international visitors to the congress, to sponsors, exhibitors, organisers, speakers, technicians, and to the students from his own King's College, London department who worked as helpers at EuroPerio8. Hughes then handed organisational responsibilities for the Amsterdam event over to the new organising committee led by former EFP president and Belgian periodontist Michèle Reners. The closing farewell was delivered by the current EFP president, Sören Jepsen.
The first part of the afternoon's event had begun with a comprehensive 80-minute review of periodontology over the past 25 years in Europe, during which leading researchers, previously filmed in interviews, placed the key scientific aspects of perio in perspective and gave their views on what the future holds.
This review was presented by the scientific chairman of EuroPerio8, Mariano Sanz, and the editor-in-chief of the EFP's scientific Journal of Clinical Periodontology, Maurizio Tonetti. The two hosts offered their expert analyses of information provided by some of the world's top authorities in perio and implant research, surgery, and education: Tord Berglundh, Iain Chapple, Pierpaolo Cortellini, Jean-Louis Giovannoli, David Herrera, Niklaus Lang, Jan Lindhe, Phoebus Madianos, Wim Teughels, Stefan Renvert, Massimo De Sanctis, Ubele van der Velden, and Otto Zuhr.
The emotional high-point of the afternoon came when Sanz and Tonetti invited the vast audience at the ExCeL ICC Auditorium to pay tribute to the two "architects of modern periodontology", Sweden's Jan Lindhe and Switzerland's Klaus Lang. The appearance of these two "perio greats" on stage for a brief interview provided the audience with proof that debate in perio is alive and not without controversy. Both Lindhe and Lang left the stage to hugely appreciative applause.