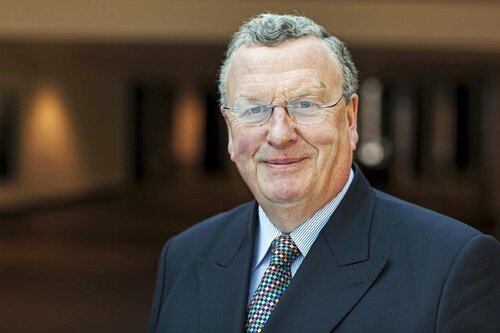 Professor Nairn Wilson, honorary professor of dentistry at King's College London, was inaugurated as the 129th president of the British Dental Association (BDA) in a ceremony at the association's recent annual conference in Manchester.
Wilson has led the EFP's initiative to gain recognition of periodontology as a dental specialty by the European Commission, working closely with the federation's national societies. Working as strategic officer on behalf of the EFP, his professional contribution complements other efforts that have been made by the executive committee in recent years.
In his inauguration address, Wilson told the conference of the importance of co-ordinated healthcare where dentistry becomes an integral part of whole-person care. He called for a move away from an episodic approach towards preventative, continuous patient care with dentists and their teams rewarded for saving rather repairing their patients' teeth.
In a subsequent lecture, he talked about the challenges and opportunities of a career in dentistry, emphasising the benefits of lifelong learning.
"I thank the BDA for this accolade, and for the confidence and trust in me to serve as president of the Association for 2015/16," said Professor Wilson.
"In the challenging, ever-changing world in which the profession seeks to deliver the best possible oral healthcare, there are many issues and uncertainties. However, whatever 'time of need' may lie ahead for us, suitably resourced, professionally led prevention of oral and dental disease, along with a fully integrated approach to healthcare, will pay great dividends."
Professor Nairn Hutchison Fulton Wilson CBE, FDS, FFGDP, FFD, FKC has a distinguished 45-year career which includes senior positions in dental education, research, and publishing. He was professor of restorative dentistry, dean, and head of King's College London's dental institute from 2001 to 2012. He was also deputy vice principal of King's College London from 2009 to 2012.
He has published more than 250 original research papers, two hundred abstracts, 35 reviews, and has authored and edited 50 books as well as co-authoring 20 book chapters. He has given more than 450 invited lectures to organisations worldwide.
Previous honours and awards include a Dentistry Lifetime Contribution Award and the BDA's John Tomes Medal. He was awarded the CBE as commander of the Order of the British Empire in 2004.