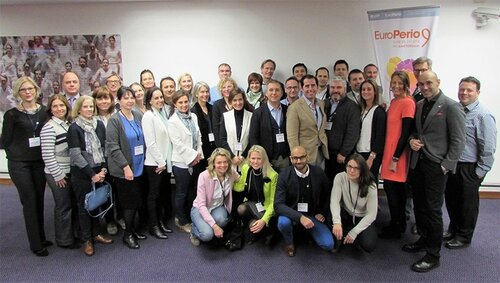 Since EuroPerio7 in Vienna (2012), a key role in attracting people to the EFP's world-leading triennial EuroPerio congresses has been played by the EuroPerio Ambassadors.
There is one ambassador for each country with an EFP-affiliated national society of periodontology and, outside the organising committee and the EFP's professional conference organiser Mondial Congress and Events, it is probably the ambassadors who play the biggest role in encouraging people to attend the EuroPerio congresses.
Starting their work in December last year, the 30 ambassadors for EuroPerio9 (Amsterdam, June 2018) have 18 months of carefully co-ordinated work to spread the word about the congress to periodontists and other dental professionals across Europe.
Their role is to enhance local recognition of EuroPerio as the world's leading congress in periodontology and as a "must-attend" event for periodontists, dentists, hygienists, and other members of the dental community.
"The main role of the ambassadors is to clarify to members of their national societies and to their colleagues why missing EuroPerio9 is simply not an option from a clinical or a scientific point of view," says Spyros Vassilopoulos, chair of the EuroPerio9 Ambassadors Committee.
In carrying out their role, the ambassadors – who must actively communicate their ambassador status within their own work environments – act as liaison officers for EuroPerio9 promotional activities within their national societies. These activities include:
Distributing promotional e-mails from the EuroPerio9 organising committee to members of their national societies and to other potential delegates.
Identifying major national meetings in periodontology and dentistry in their own countries and organising promotional activities at these events.
Providing the organising committee with relevant national contacts of periodontology clinics, periodontology departments at universities, etc.
Establishing and cultivating contacts with opinion leaders, institutions (dental chambers, for instance), related societies, and other bodies that might help promote EuroPerio9.
Sharing EuroPerio9 social-media posts.
So far, the EuroPerio9 ambassadors have attended more than 60 meetings and informed more than 40,000 delegates about the event, distributing promotional posters, slides for presentations, bag inserts, and other materials. By the end of May 2018, says Vassilopoulos, more than 70,000 delegates at over 80 congresses will have seen EuroPerio9 promotional material.
Long list of tasks
At the same time, the ambassadors are busy completing a long list of tasks, which includes translating promotional material into their national languages, mailing members of their societies about important EuroPerio9 deadlines (such as for registration and abstract submissions), providing details of the scientific programme, and distributing EuroPerio9 newsletters. They also upload information to their national societies' websites and social-media pages.
Although e-mail remains an effective promotional tool for reaching certain target groups, social media has now become the main vehicle.
"The main bulk of possible EuroPerio9 attendees are getting information and communicate with each other through social networks, industry or scientific websites, closed groups, etc.," says Vassilopoulos. "More than ever, we are utilising the tool of the internet to inform, promote, and reach all colleagues who have a special interest in periodontology and implant dentistry."
Another important role played the ambassadors is to provide local information to the EuroPerio9 organising committee. For instance, one task is to provide information about the further-education system in their country and how attendance at EuroPerio9 sessions, including sponsor sessions as well as the main programme, would count officially as educational hours.
The ambassadors also actively support EFP activities, such as European Gum Health Day 2017.
Keeping in touch, working together
The ambassadors' work began on December 1, 2016 with a "kick-off" meeting at the EuroPerio9 congress venue of RAI Amsterdam, where they familiarised themselves with the auditorium and the exhibition hall.
They co-ordinate their work and exchange information about their progress in two ways – through the special Ambassador Zone of the EFP website (from which they can also download material for promotional activities) and via social media.
"As we are in the 'era' of social networking, we have created a closed Facebook group for the ambassadors, where it is easier and faster to communicate with each other than having to log in to the EFP website," explains Vassilopoulos. "The ambassadors are very active in uploading thoughts, comments, and photos from the congresses where they are promoting EuroPerio9. There is also instant messaging/answering between all of us and that is keeping the spirit up during this long period of promotion."
EuroPerio9 will be the third congress where ambassadors have played a role. The ambassador programme was launched for EuroPerio7 in Vienna (2012), whose organising committee was chaired by current EFP president Gernot Wimmer.
The programme was created in the wake of EuroPerio6 (Stockholm, 2009) because, according to Vassilopoulos, "although the total number of delegates increased, the member mobilisation was low and some members of the national societies felt that there is no 'new knowledge' to gain from major congresses."
It seems likely that the ambassadors for EuroPerio 7 and EuroPerio8 played an important role in attracting members of EFP-affiliated national societies and in helping raise overall attendance from 6,686 attendees in Stockholm to 7,812 in Vienna and 9,626 in London.
How ambassadors are chosen
Vassilopoulos describes the profile of the ambassadors, explaining how they are chosen by the EuroPerio9 organising committee. "The ambassadors should have a certain profile and the specifications are sent to the boards of all 30 full and associate members of the EFP, which are asked to recommend a member who meets the criteria."
These criteria are that a potential ambassador should: play a rising role within a national society; have the support of that society's board; be enthusiastic, pro-active, well-organized, and reliable; have a good command of English combined with strong communication and networking skills; and have professional standing in the national/regional dental community.
As chairman of the Ambassador Committee, Vassilopoulos (who was the EuroPerio8 ambassador to Greece), is in charge of assigning tasks to the ambassadors, checking that these tasks have been completed, and tackling any problems that might arise.
"I can honestly say that the EP9 Ambassadors are very proactive and enthusiastic about their role and this makes my job more efficient and fun," he says, adding that he is grateful for the "support and trust" he receives from the EuroPerio9 organising committee, from the EFP, and from Mondial.
Although the main purpose of the ambassadors – encouraging people to come to EuroPerio9 – will be completed by the time RAI Amsterdam opens its doors on June 20, 2018, they also have an important role to play within the congress itself.
They will be active in the EFP Village, networking with delegates from all around the world. The EFP Village, which was introduced at EuroPerio7 in Vienna, is a dedicated area where members of the national societies are welcomed and provided with information both about their own societies and about the EFP. The ambassadors will also support other on-site activities during the congress.
"The ambassadors' group gathers together very motivated and enthusiastic people whose support is very helpful for organising such a big meeting as EuroPerio," says Michèle Reners, chair of the EuroPerio9 organising committee. "The network established between them also plays a major role – they encourage each other and exchange ideas. Many ambassadors from previous years are still in contact and are looking forward to meeting each other again in Amsterdam. We feel more like a big family!"
The full list of EuroPerio9 ambassadors can be found in the EuroPerio9 section of the EFP website.