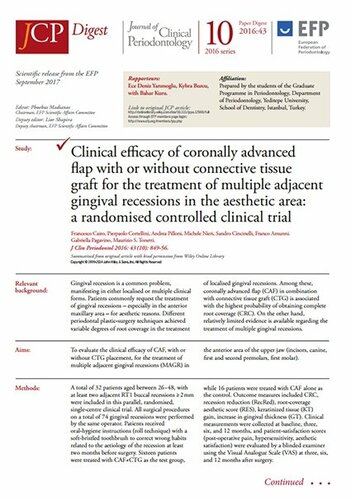 Gingival recession is a common problem and patients often ask for treatment – especially in the anterior maxillary area – for aesthetic reasons.
Various periodontal plastic-surgery techniques are used, but coronally advanced flap (CAF) in combination with connective tissue graft (CTG) is associated with the best results for obtaining complete root coverage. However, evidence about treating multiple gingival recessions has so far been limited.

In this context, a study – now summarised as JCP Digest 10 (2016:43) – sought to evaluate the clinical efficacy of CAF, both with and without CTG placement, for the treatment of multiple adjacent gingival recessions in the anterior area of the upper jaw.
This randomised controlled clinical trial, carried out by Italian researchers based mainly at the University of Florence, found that the combined treatment was more effective than CAF alone in terms of complete root coverage in cases of multiple gingival recessions with a thin baseline gingival biotype.
However, in cases involving a thick baseline gingival biotype, CAF alone yielded similar clinical results and better aesthetic outcomes than CAF combined with CTG.
The original research, published last year in the Journal of Clinical Periodontology, was summarised for the JCP Digest by students of the postgraduate programme in periodontology at Yeditepe University in Istanbul (Turkey).
JCP Digest 10 is available for viewing and downloading on the EFP website in English, French, German, Italian, Portuguese, and Spanish.