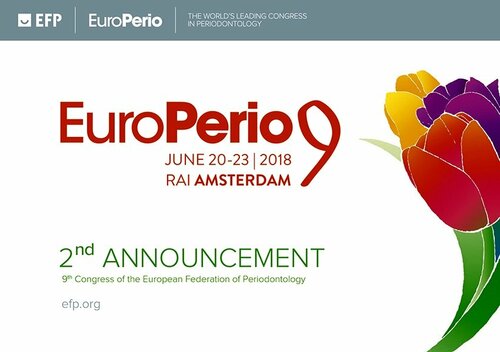 The EuroPerio9 organising committee has published the full details of the scientific programme for the congress, which takes place at the RAI Amsterdam centre from June 20 to June 23, 2018.
The "second announcement" reveals a rich and varied programme, including many innovative features, and lists the names of the more than 120 speakers who will bring the latest expertise in periodontal science and clinical practice. The scientific programme for EuroPerio9 has been designed to appeal to specialists and generalists alike.
The announcement highlights the new session formats that the organising committee – led by chair Michèle Reners and scientific chair Søren Jepsen – has devised for the four-day congress. These include:
Live surgery: For the first time at a EuroPerio congress, there will be live surgery. This will take place on Friday 22 June, where – in a session moderated by Massimo de Sanctis – live periodontal and peri-implant surgery will be carried out by Giovanni Zucchelli and Martina Stefanini (all three participants are from Italy).
Perio Talks – 1st EFP Graduate-Alumni Symposium: These talks – modelled on the "TED Talks" format – will be based on the topic "Periodontal experience and discoveries worth spreading." Selected speakers – past and present graduate students of EFP-accredited programmes – will present talks of between 10 and 12 minutes about experiences that have significantly inspired their professional careers.
Nightmare session: Master clinicians will present some of their worst treatment scenarios, explaining how they could have been avoided, how they might have been rescued, and the lessons that they have learned from their mistakes. This session will be chaired by Mario Roccuzzo (Italy) and will feature contributions from Caroline Fouque (France) on nightmares in periodontal plastic surgery, Giulio Rasperini (Italy) on nightmares in regenerative surgery, and Jean-Louis Giovannoli (France) on nightmares in the treatment of peri-implantitis.
Debate: The use of systemic antibiotics in periodontology will be debated by leading experts in the light of the emerging threat of worldwide antibacterial resistance. Andrea Mombelli (Switzerland) will debate the issue with David Herrera (Spain), with Björn Klinge (Sweden) in the chair. (This topic was addressed in a debate between Andrea Mombelli and Lior Shapira in the EFP magazine Perio Insight).
Treatment Planning – Interactive Session: Complex treatment-planning scenarios will be presented by Christoph Hammerle (Switzerland) and David Nisand (France) and possible treatment decisions and solutions will then be discussed by an interdisciplinary team of experts. The audience will be able to vote on the options presented and the votes will be revealed at the end of the session.
3D session: In a cinema-style auditorium, top experts will display 3-D films about reconstructive surgery at teeth and implants. After an introduction by Jan Cosyn (Belgium), Pierpaolo Cortellini (Italy) will present a film about periodontal defects and Stefan Renvert (Sweden) will then present one about peri-implant defects.
EFP Perio Contest: Various cases will be submitted and a pre-selection made by a jury of world-renowned experts. The top three cases will be selected, via social-media voting, to be presented at EuroPerio9 and the overall winner will then be chosen via live voting in Amsterdam.
Other highlights of the programme include a plenary lecture on technology and innovation by Dutch astronaut André Kuipers and a keynote lecture from Klaus Lang (Switzerland) on "50 years in periodontology". And, of course, the final session, which the programme has branded as "Top Secret".
"The entire organising committee is working harder than ever to bring you an exciting and unforgettable congress," said Michèle Reners. "Remember that EuroPerio is also the place for you – as clinician or researcher – to show your work and exchange your ideas through e-posters or free communications. So, do not forget to submit your abstracts before the November 28 deadline."