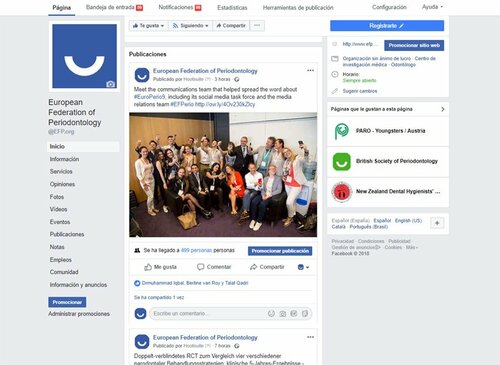 The EuroPerio9 congress in Amsterdam gave a massive boost to usage of the EFP's social-media services, with many new followers and substantially increased interaction.
The EuroPerio9 social-media team of 24 people, led by EFP social-media co-ordinator Reena Wadia, ensured that every session at EuroPerio was covered across the EFP pages on Facebook, Twitter, Instagram, and LinkedIn.
And this increased activity – with around 100 posts over the course of the four days of the congress (June 20-23) – was accompanied by substantially higher viewing and interaction with material on the various social-media platforms.
For instance, the EFP Facebook page reached 34,281 people on June 24, the day after the congress, compared with 2,366 people on June 17. There were also 778 "likes" from new users during this week.
Over the four weeks from 14 June to 11 July, the number of people reached by the EFP Facebook page was 136,939 – an increase of 468% on the previous four weeks. During this period, videos posted on the Facebook page were viewed 30,890 times – a sevenfold increase compared with viewing over the previous period. The number of followers of the Facebook page grew over the four weeks by 1,209 and the total now stands at 11,561.
The five most popular Facebook posts during EuroPerio9 were:
On Twitter, where the EFP now has 1,479 followers, there was a 30% increase in viewing during June (a total of 46,899 views) compared with May, while visits to the EFP's Twitter profile increased by 150% to 1,532.
It was a similar story on LinkedIn, where the number of followers increased by 8% during June. The EFP's page on this professional networking platform has carried about 90 posts dedicated to EuroPerio9, including 30 published during the congress.
Instagram, the newest of the EFP's social-media services, was used extensively during EuroPerio9 with more than 100 photos and video clips posted during the congress.
There are now 1,313 followers of the EFP Instagram page, whose top posts during EuroPerio9 included one related to Frank Schwartz's presentation on saving bone, another about Fridus van der Weijden's presentation in relation to interdental brushing, and another about the film Peri-implantitis and its Prevention, produced by Cell-to-Cell Communication, which was premiered at the Amsterdam congress.
On the EFP's YouTube channel, which now has 607 subscribers, the EuroPerio9 playlist of 36 videos (most of them promotional videos released ahead of the congress) has been accessed more than 12,000 times.
"EuroPerio9 has given us an opportunity to fully utilise the power and benefits of social media," said Dr Wadia.