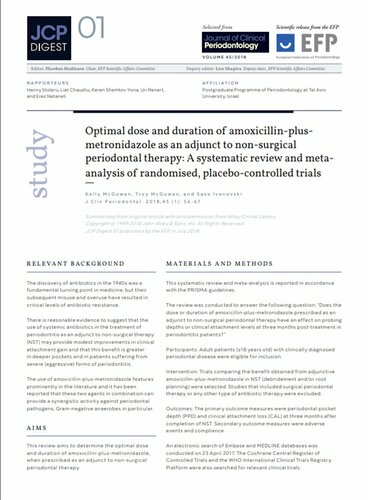 A new series of the EFP research summary JCP Digest begins with an account of a systematic review and meta-analysis of randomised, placebo-controlled trials involving the use of antibiotics in periodontal therapy.
JCP Digest 01 (2018:45) describes research that sought to determine the optimal dose and duration of amoxicillin-plus-metronidazole, when prescribed as an adjunct to non-surgical periodontal therapy.
The researchers, at universities in Queensland, Australia, assessed periodontal pocket depth (PPD) and clinical attachment level three months after treatment as primary outcomes, with adverse events and compliance as secondary outcomes. They also compared lower and higher doses and different lengths of courses of antibiotics.
They found that there was "no clinically meaningful difference" between different doses or duration of amoxicillin‐plus‐metronidazole at three months after treatment.
They concluded that, with no compelling evidence for one regimen over another, the responsible approach would generally be to recommend the highest dose for the shortest duration of time, as a way of reducing the risk of antibiotic resistance. Thus, a seven‐day regimen of 500/500 mg or 500/400 mg of amoxicillin and metronidazole would be most appropriate.
JCP Digest 01 (2018:45) is the first of a series of 12 magazines based on research published in 2018 in Volume 45 of the EFP's official scientific journal, the Journal of Clinical Periodontology (JCP), one of the leading publications in dentistry with an impact factor of 4.046.

Each month, one item published in the JCP is selected and then précised by a team of rapporteurs, who are all students at the 16 EFP-accredited postgraduate programmes of periodontology. JCP Digest 01 was summarised by students at Tel Aviv University in Israel.
JCP Digest 01 has been published in English and versions in French, German, Italian, Portuguese, and Spanish will be released in the coming weeks.