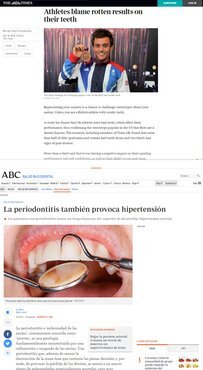 One of the many successes of EuroPerio9, the EFP congress held in Amsterdam in June, has been the extensive amount of press and media coverage that it achieved – and continues to achieve.
Articles related to EuroPerio9 have appeared in recent days on the Spanish dental-health website Noticias Dentales and in Prevention International, an oral-health magazine published by Dental Tribune.
This follows wide coverage in both general and specialist (dental and medical) media of the congress and the press conferences held at the RAI Amsterdam centre.
News from EuroPerio9 made it to the pages of leading newspapers including the New York Times, The Times, the Daily Mail, ABC (Spain), and El Economista (Spain). There was also coverage in the online news service Huffington Post, by news agencies Reuters and ANSA (Italy), as well as medical portals such as WebMD.
The subjects that created most impact in the general media were:
These topics were featured in press releases and the research was presented during the three press conferences the EFP held at EuroPerio9, which were live-streamed on Facebook to maximise their reach.
There was also significant and detailed coverage of issues raised at the congress in the dental and medical press, including Dental Tribune Europe, Dental Nursing, and MedicalXpress. Here, in addition to the topics mentioned above, there was also considerable interest in the new classification of periodontal and peri-implant diseases, in Aorra Naji's presentation on the influence of smoking on the efficacy of non-surgical periodontal treatment, and in Sebastien Jungo's research on the association of depression and stress with severe gum disease.
As well as covering the issues raised in the EFP press conferences, the specialist press also provided a wide range of reports on EuroPerio9.
To attract the interest of the media, the EuroPerio9 press office sent out four media alerts, 10 abstract-based press releases, two releases related to the new classification, and a "wrap-up" press release at the end of the congress.
The EFP is pleased with the coverage that EuroPerio9 attracted, and now plans to build on the relationships established at Amsterdam with various media outlets to ensure that news about periodontology and implant dentistry continues to make headlines in both the specialist and the general media.
"We were thrilled to see that EuroPerio9 news generated a lot of 'buzz' and was covered by top media outlets", said Jacqueline Partarrieu, EFP media relations manager. "We hope to build on this success in order to reach audiences the EFP does not usually get to. The public is eager for health stories and we will strive to make the EFP the reference for oral health in people's minds.
"We have lots of projects coming up that will be great opportunities to increase awareness about both the federation's work and key messages concerning gum disease."